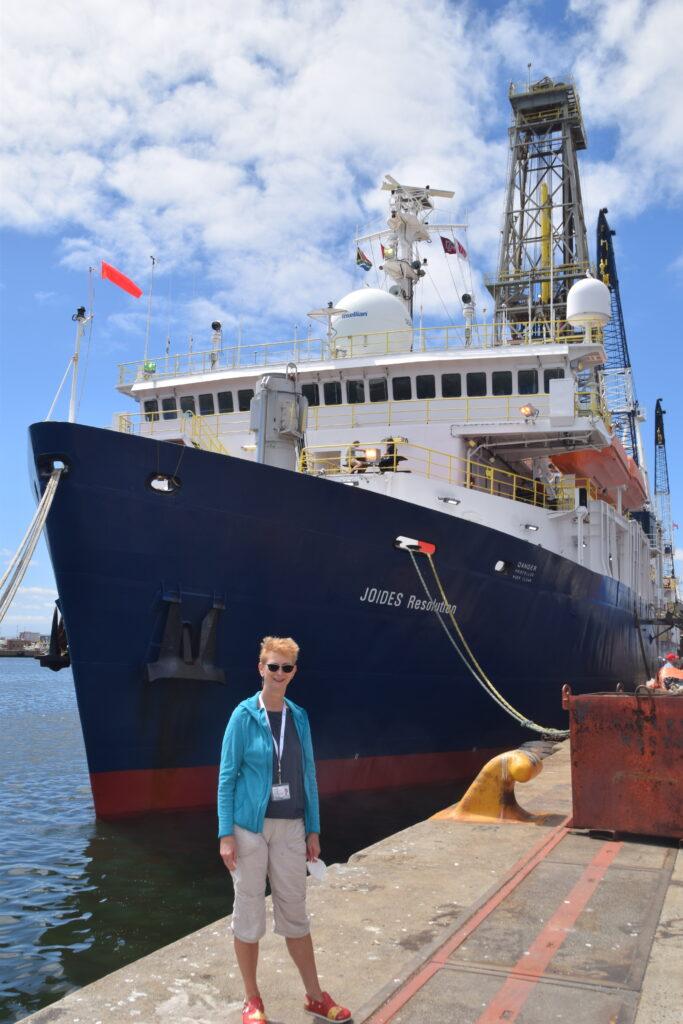 Co-Chief Gabi's Update Week One
By Gabriele Uenzelmann-Neben, Co-Chief Scientist for Expedition 392
This expedition is different from every other I have participated in. This time I brought neither equipment nor a group of scientists. All necessary equipment is already on board the drillship JOIDES Resolution, a research vessel. And the scientists fly in from Germany, the UK, Norway, Spain, the Netherlands, the US, India, Australia, China and Japan. This international group intends to carry out scientific drilling at the intersection of the South Atlantic and the southern Indian Ocean, the African-Southern Ocean gateway. We will carry out this project as part of the International Ocean Discovery Program (IODP).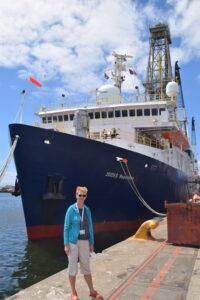 Before we can set sail, we have to spend seven days in quarantine in a hotel to prevent carrying COVID-19 on board. We are tested twice during the hotel quarantine, with further testing when on board in the Port of Cape Town, and then for 14 days after leaving port.
The seven days in hotel quarantine go by pretty quickly. We attend video conferences to prepare for the cruise. We hope for plenty of material to be recovered during drilling, both sediments and hard rock. This will help us understand the development of these gateways.
Every participant has ideas about how to use this material to reach the objectives of the cruise. Those plans are presented during the video conferences. Participants develop collaborations and discuss procedures for sampling and analyses.
We are finally allowed to board the vessel on February 7.  Every participant moves into their cabins quickly, and then we are shown around the vessel in small groups. Everyone gets to know their working space. We meet the technical staff, who will help us carrying out the analyses. And although we are still in port, we start our shifts.
When we finally leave port on February 10, we are eager to go! Cape Town bids us farewell with sunshine and a moderate breeze. The sea appears friendly but with a long swell. We are on our way, in transit to our first drill site on the Agulhas Plateau.
Why do we want to drill on the Agulhas Plateau? What are our objectives and goals?
More on this next week, so stay tuned.
Gabriele Uenzelmann-Neben, of the Alfred-Wegener-Institut, Helmholtz-Zentrum für Polar- und Meeresforschung (AWI), issued this report from the Southwesterly Indian Ocean, 12. February 2022, 39° 57.0659′ S/ 26° 14.1720′ E