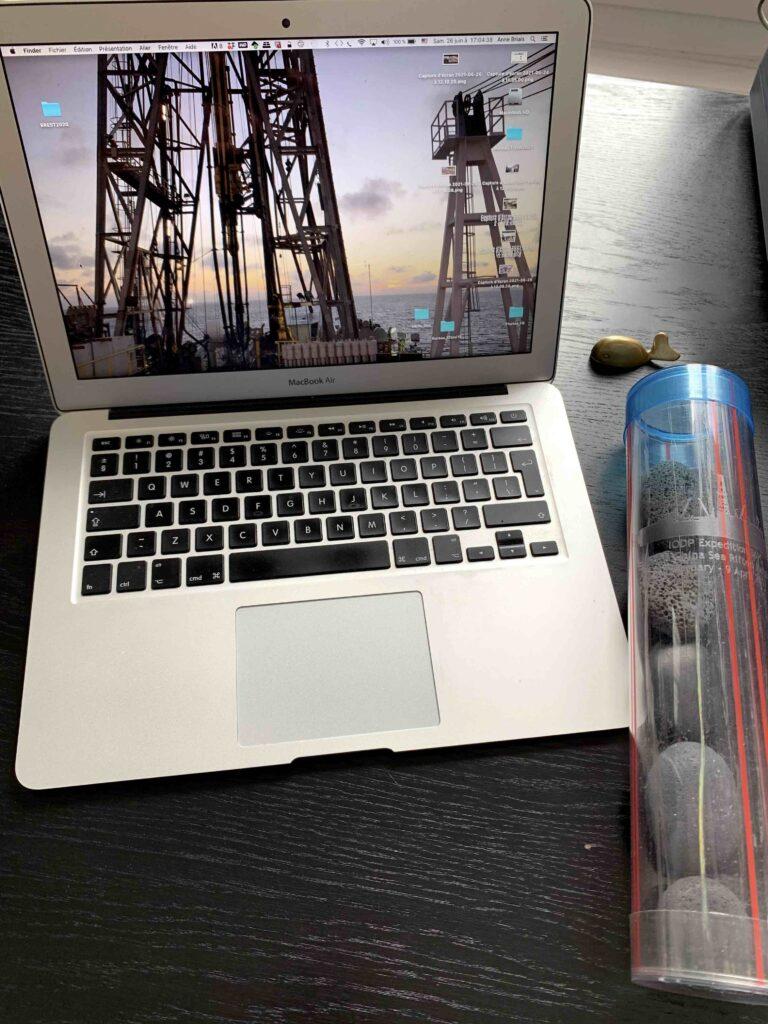 The arrival of a new core on the rig floor of the JOIDES Resolution is usually announced by a loud "Core on deck" shouted by the drillers. And the scientists would gather around the catwalk to admire the dance of the tech team bringing the new core from the drillers domain to the science domain, wiping, measuring, marking, cutting and closing the core liner. There would be a lot of guessing… What was the recovery this time? Will the mud be grey or white, green or red? Will there be lots of fossils? Did we reach the basement yet? Any ash layer? Any drop stone? Any fresh basalt? All the excitement of the discovery of new data!!!
But getting scientific data from the bottom of the ocean during a pandemic requires some adaptations. As already described by my colleagues, the science party of IODP Expedition 395 has been experiencing hopes and disappointments in the last 15 months, while patiently following the decisions of the IODP program under the constraints of the pandemic evolution. Finally, the JOIDES Resolution left Reykjavik for Exp. 395C early June without the Science Party. For the scientists, it is "Core on desk" instead of "Core on deck". How can we make the most of it? Science must go on! During the last few months, the scientists have carefully chosen from the original plans of Exp. 395 the sites and operations which do not entirely require their presence on board. The JRSO Expedition Manager Leah Levay and technical team, along with the JR crew, have a great experience of getting nice cores from the ocean depths. What we had to decide was which measurements could only be done on board, either because the properties of the cores would change with time (water content and chemical composition, gases just released by the cores), or because the instruments are ideally set on board, like in the paleomag lab. Many meetings were organized with any combination of the whole science party, lab groups, the co-chiefs, the technical team, and – always – Leah. Measurements and sampling were adjusted to these exceptional conditions.
And it is happening! Beautiful cores are being collected, and the scientists can see photos shared by the techs. Zooming and tweeting all along! All on board are doing a fantastic job of cutting the cores, measuring, extracting water, splitting, measuring more, taking samples, packing. A lot of these tasks would be shared by the science party on a "normal" expedition, but this time the load is all on the tech team on board! The (other) scientists have to imagine that from our desks! I wonder whether it is more frustrating not to be on the JR when you have been there already, or when you have never enjoyed such an experience… Playing with a piece of liner from a previous expedition and pebbles from an Iceland beach… Well, like Sara Satolli, my last time on the JR for Expedition 368X was also exceptional, with only 10 scientists on board and a single objective: get basement cores at one site in the South China Sea. I got more lucky that time. As Sara said: IODP… I only do peculiar!
Next? We will gather around the cores from Exp. 395C and 384 for a "description" party and much more sampling. What a feast! For many of us it will mean meeting in real for the first time! If all goes well, that will happen later in the year. Get your vaccines as soon as they are available in your country!!! Then only we will have the whole data set for the sites cored this summer and in 2020, and we will be able to start working toward the Expedition objectives. And we will get ready for yet another round of adventures with a "real" Expedition 395 including the whole science party, to finish the operations and meet these objectives. Crossing fingers!!
Anne Briais, Co-chief of Expedition 395 (and 395C).
——-
L'arrivée d'une nouvelle carotte sur le pont du JOIDES Resolution est annoncée d'habitude par un "Core on deck" crié par les foreurs. Et les scientifiques se rassembleraient alors autour du "catwalk" pour admirer la danse de l'équipe technique qui apporte la nouvelle carotte du domaine des foreurs à celui des scientifiques, essuyant, mesurant, marquant, tronçonnant et refermant le tube. Et on essaierait de deviner… Est-ce que la récolte a été bonne? Est-ce que la boue sera grise ou blanche, verte ou rouge? Est-ce qu'il y aura beaucoup de fossiles? Est-ce qu'on a enfin atteint le socle? Une couche de cendres? Des drop stones? Des basaltes frais? Quelle excitation à la découverte de nouvelles données!
Mais obtenir des données scientifiques depuis les fonds marins par temps de pandémie nécessite des adaptations. Comme l'ont déjà décrit mes collègues, l'équipe scientifique de l'Expédition IODP 395 est passée par des périodes d'espoir et de désillusion durant les 15 derniers mois, en suivant patiemment les décisions du programme IODP sous les contraintes de l'évolution de la pandémie. Au final, le JOIDES Resolution a quitté Reykjavik début Juin pour l'Expédition 395C sans l'équipe scientifique. Pour les scientifiques, les carottes apparaissent sur le bureau plutôt que sur le pont, "Core on desk" au lieu de "Core on deck". Comment tirer parti au mieux de la situation? La science continue! Pendant les quelques derniers mois, les scientifiques ont soigneusement choisi parmi les sites et les opérations initiallement prévus pour l'Exp. 395 ceux qui ne nécessitent pas absolument leur présence à bord. La coordinatrice de l'Expédition Leah Levay et l'équipe technique (du JRSO), avec l'équipage du JR, ont une grande expérience pour collecter des belles carottes des profondeurs des océans. Nous avons dû décider quelles mesures ne pouvaient être faites qu'à bord, soit parce que les propriétés des carottes changent avec le temps (contenu en eau et gaz, composition), ou parce que les instruments sont idéalement configurés à bord, comme le labo de paléomagnétisme. De nombreuses réunions virtuelles ont été organisées avec toutes les combinaisons de l'équipe scientifique entière, les groupes, les co-chefs de mission, l'équipe technique, et – toujours – Leah. Les mesures et l'échantillonnage ont été ajustés à ces conditions exceptionnelles.
Et ça marche! De belles carottes sont remontées, et les scientifiques peuvent en voir des photos grâce au partage de l'équipe technique. Tous connectés sur Zoom et Twitter! Tous à bord font un super boulot pour couper les carottes, mesurer, extraire l'eau, diviser, mesurer encore, prendre des échantillons, emballer. Beaucoup de ces tâches seraient partagées avec les scientifiques sur une expédition "normale", mais cette fois la charge est entièrement assurée par l'équipe technique! Les (autres) scientifiques doivent imaginer tout cela depuis leur bureau! Je me demande s'il est plus frustrant de ne pas être à bord si on y a déjà été, ou si on n'a jamais connu les joies d'une expédition… En faisant semblant avec un morceau de tube d'une expédition précédente et des galets d'une plage islandaise… En fait, comme pour Sara Satolli, ma dernière expédition sur le JR, 368X, était aussi exceptionnelle, avec seulement 10 scientifiques à bord, et un seul objectif: obtenir des carottes de socle d'un site en Mer de Chine méridionale. Cette fois-là j'avais eu plus de chance. Comme dit Sara: IODP … I only do peculiar!
Et après? Nous allons nous retrouver autour des carottes des expéditions 395C et 384 pour une réunion de "description", et beaucoup plus d'échantillonnage. Quelle fête alors! Pour beaucoup d'entre nous, ce sera la première rencontre "en vrai"! Si tout va bien, cette réunion aura lieu à la fin de l'année. Allez vous faire vacciner dès que possible!! Alors seulement nous aurons un jeu de données complet autour des sites forés cet été et en 2020, et nous pourrons nous attaquer aux objectifs de l'Expédition. Et nous nous préparons pour une "vraie" Expédition 395, avec tous les scientifiques à bord, pour finir les opérations et atteindre ces objectifs. On croise les doigts!