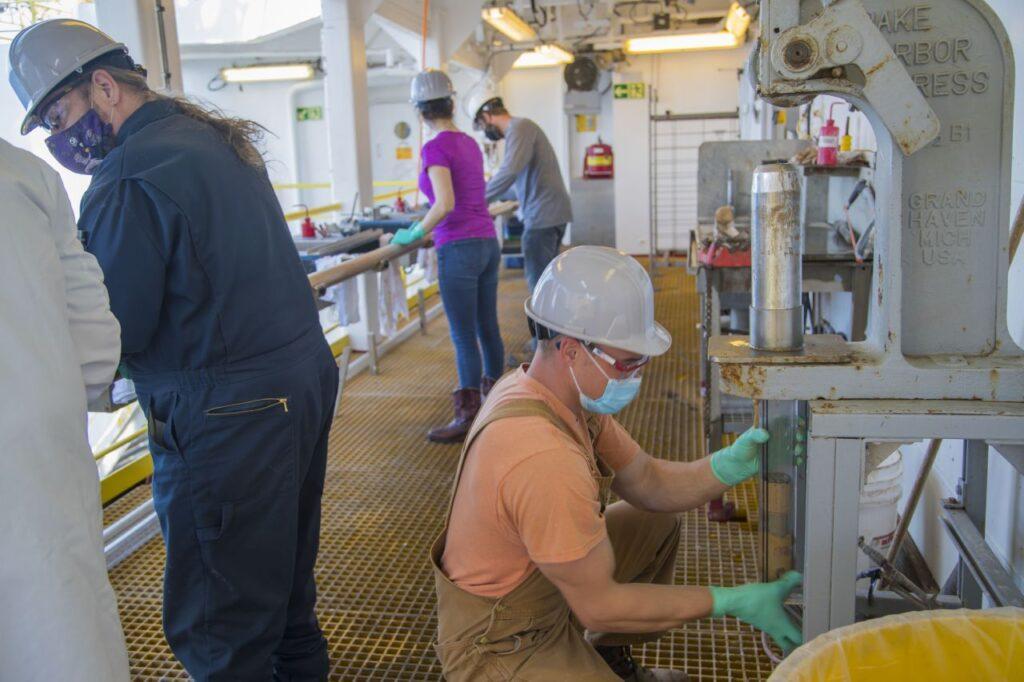 IODP (I Only Do Peculiar) Expeditions
The COVID-19 pandemic forced us all to change plans, become more flexible, and continuously review our schedule to adjust to travel restrictions and safety protocols.
The JOIDES Resolution was no exception. The expedition schedule has been changing a lot in the last year or so, with one objective: to keep the science going, as much as possible.
Expedition 395 is no exception either: the expedition was quickly organized right before Summer 2020, just to be cancelled soon after. Expedition 384 sailed instead, where drilling tests were run on the same drilling sites.
As a result, Exp 395 Science Party has already received some precious data to look at, while waiting for Exp 395 to sail in Summer 2021. But…this time, it was not safe to sail a full (or even a reduced) Science Party, so Exp 395C is going instead, without us! The Expedition has the objective to drill most of the sites originally planned, and run some measurements that cannot be postponed (like, paleomagnetic measures of the sections, geochemistry, down hole measurements, etc).
So, I will not be on board for Exp 395C, and none of the Science Party will be (save for the lucky Expedition Project Manager Leah LeVay!). What are we doing in the meantime, you may wonder? Just sit and wait?!? Oh, not at all! Since the Expedition was first planned more than one year ago, the Science Party has been meeting online, doing workshops, replanning, organizing essential measures to run, brainstorming about outreach…
We've met so many times online, that we already know each other, without ever meeting in person. This is nice, but, on the negative side, we don't know when or how Expedition 395 will be implemented and we've already been working on it for more than one year.
During the first video meetings, we were all tidied up and shiny, but after one year… sometimes someone forgets the meeting, someone cannot rearrange their schedule (soooo many videocalls… that's enough! Enough!), someone gets the wrong time zone, our pets start participating in the meetings, someone may be just wearing their PJs (me? Don't look at me :-P), or forgot to brush their hair… it feels like we are at week 5 or 6 of the Expedition, that advanced part of the journey when the excitement starts to fade, and the fatigue starts to hit. And Exp 395 has yet to be scheduled!
This really is a peculiar expedition. The science must go on, with or without us! But if I think about it, I Only Do Peculiar Expeditions! My first one was part the of the joint 367/368 Expeditions, and it included a huge Science Party, sailing on two consecutive cruises. I was on 368 and I think I still would not recognize some of the scientists from 367, notwithstanding I met them online and during post-cruise meetings. My second one was the only-3-weeks long Exp 368X, with a very reduced Science Party (our Co-Chief Scientist Anne Briais was on that one, too!). At that time, that was considered a peculiar one! It was organized in a very short time, to optimize resources following some technical issues that the old and loved JOIDES Resolution started to have. Rescheduling at the last minute may not look exceptional now, but it was at that time, when the schedule used to be solidly planned in advance. Exp 368X was so exceptional that it was mentioned as an example of flexibility during the IODP Town Hall at the American Geophysical Union Fall Meeting that year! It was only 2018… Things and perspectives really changed since then!
So, I Only Do Peculiar Expeditions. Even though I only entered the IODP community in the last few years, I learned something: each Expedition has its own peculiarity. Each Expedition is special in its own way, each one makes the science and technology advance a tiny bit, and can change your life forever. It may be because of an important scientific discovery, a memorable storm, a particularly challenging technical issue, a Science Party that works particularly well together, you may find a precious collaboration, life lasting friendships or even love. For me, it was some and all the above.
I Only Do Peculiar Expeditions. Because IODP is a unique and irreplaceable program, and I am glad and honored to be a tiny little part of it, even if this time I stay on the beach (in marine talk, meaning: on shore).
Sara Satolli
Paleomagnetist