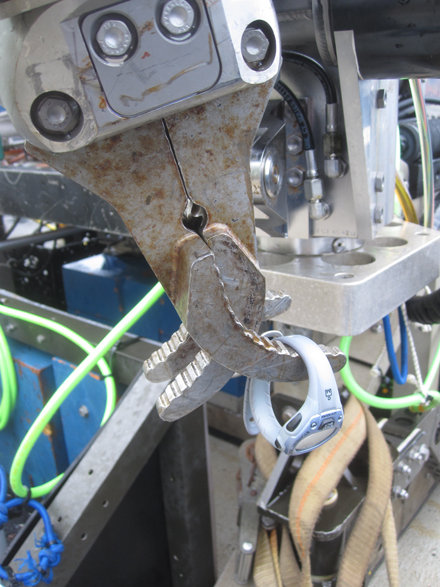 Could you tie your shoe with two of these as fingers?
Amazing as the abilities of the JASON are, the "hands and fingers" are not as adept as human hands (however they are much much stronger!). Before equipment goes down to the ocean floor, it has to be secured so it doesn't come out and so that the JASON arm can release the ties. Here JASON pilot, Dara, and scientist, Andy, check the ties.
They tie the instruments with bungee cords (blue) with rope loops attached (yellow). The JASON "hand" grabs the yellow rope and, with a skillful pilot at the helm, is able to not only unfasten and refasten delicate instruments but also can align small cylinders and place them into small holes. If you look carefully, you can see zip ties are also very handy for securing knots and connections.