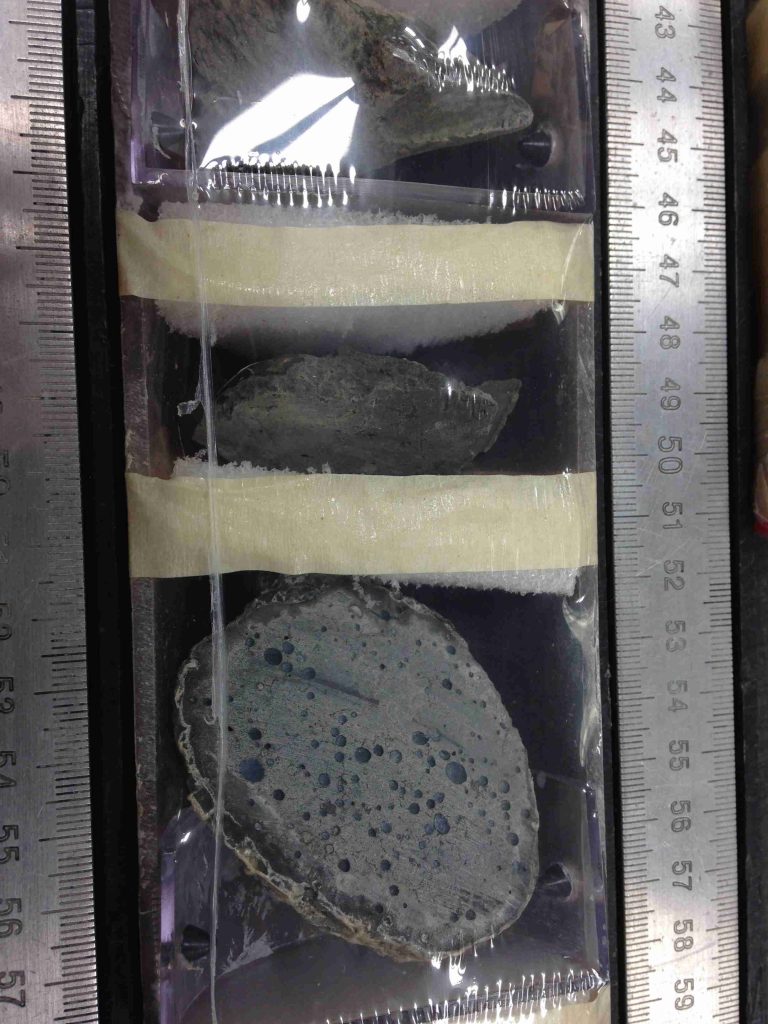 After a week of getting ready – training on our duties, learning the overall workflow, and sorting out strategies for who will do what with the samples we get – we're finally ready to sail!
Days start early on the JR – breakfast is at 5 AM, which was a particular challenge today, given that the scientific and technical staff celebrated their last day of shore time at the local Yokohama Seaman's Club until late in the night. Then an Abandon Ship drill, to sort out the shortest paths to the deck, learn how to put on the life jackets (you'd think it would be simple….) and learn about the ship's lifeboats (which are covered and motorized, and have capacity for twice the 130+ people on board). Then immigration (getting the passports stamped for departure!) and then the harbor Pilot arrives to lead the JR out of dock and out of the harbor to open waters. We'll be up on the roof of the ship for this, enjoying the summer weather (breezy and (for a Floridian) refeshingly dry) and taking in the sights and sounds.
We have a two-day sail to our first drilling site, not quite 500 miles south of Tokyo, near Chichijima Island – the type locality of boninites, a volcanic rock unique to oceanic island arcs like the Izu-Bonin. The curatorial staff pulled out the core from DSDP Leg 60, from a similar site in the Mariana arc to the south, for us all to get a taste of what we're going to see, and to get used to looking for features in drillcore.
The Geochemistry team (my team!) is getting ahead of the game by drafting out our Methods section for the Initial Reports and setting up to try two new analytical instruments: a C-H-N-S elemental analyzer (new in that we're going to try and use it for rocks) and a portable X-ray fluorescence spectrometer (for non-destructive elemental analysis). We'll also begin to move into our 12-hour work shifts – mine is 00:00 to 12:00, the night-owl shift (so I'll be able to report back in real time for the Eastern US). As I'm still waking up in the middle of the night from the jetlag, I'm particularly eager to get aligned to my shift and start getting some normal sleep again.