What better way to ring in 40 than at a professional development for teachers on the JR?

Eleven other teachers and I arrived in Tarragona, Spain on February 24th and it has been a whirlwind since. After a day of sight seeing in Tarragona, we boarded the JR and began touring the labs and learning all about cores.

Today, was made even more special because we had a birthday to celebrate. I turned 40 and have been lucky to celebrate it amongst so many amazing teachers while we learn about coring and develop lessons for the JOIDES Resolution website.

Snow fluries greeted us this morning as we gathered to begin working and then at lunch we had a stratigraphic cake we "cored" and then gratefully ate. It is definitely going to be hard to top this birthday.
.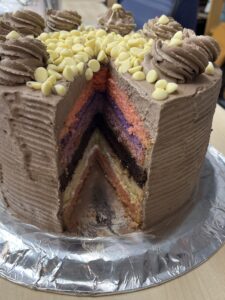 .       
.   
by Alejandra Martinez