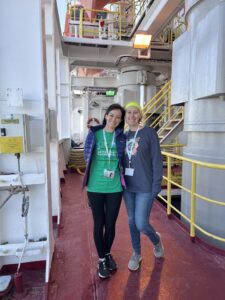 Hey! We are Angela & Alyssa, science teachers from Southern Illinois aboard the JR for School of Rock 2023 in Tarragona, Spain.
The JOIDES Resolution has a rich history of past expeditions, formally called "legs." A unique tradition is for each expedition group to design a logo that represents their experience and accomplishments during their voyage. These logos are prominently displayed in the main stairwell connecting the decks of the JR for all to see as they pass by. In our short time here, we have often found ourselves stopping to read the logos to get a glimpse of the past expeditions and crews. Many have illustrations related to the research goals or the location of the expedition. They are often humorous as they tell the story of the successes and the unexpected trials that they encountered during their journey.
As guests aboard the JR, something that really stands out to us are the strong bonds of family and legacy that are shared among the JR crew, and displayed in the stories told by the expedition logos.  We feel honored that our experiences on the JR with School of Rock 2023 will forever be a part of our stories.
Angela & Alyssa