Our School of Rock program is a professional development opportunity for formal and informal educators on board or involving the JOIDES Resolution. While living on board the ship (when possible) or in a land/lab-based workshop, teachers will work with scientists and technicians to learn about many aspects of earth science, geology, paleo-oceanography and more done aboard this amazing ship, what we learn from scientific drilling, and how to do the kinds of scientific analyses and lab exercises program-scientists do. This new-found knowledge will help teachers in creating or modifying existing resources for their students in many areas of the science curriculum.
School of Rock workshops occur once a year, usually during a transit or tie-up period for the vessel.
---
Announcing the 2020-21 School of rock
Going Boldly Where Ocean Drilling Has Not Gone Before:
A Virtual Workshop and Professional Development Series
A partnership between IODP/U.S. Science Support Program and SERC
This was our first-ever online School of Rock!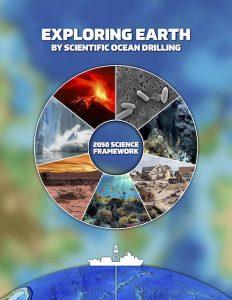 Goal: Take a tour through the cutting-edge, exciting, hot off the press 2050 Framework for Scientific Ocean Drilling that will guide the next 30 years of scientific ocean drilling research. In addition, participants will work with a group of highly motivated, creative and enthusiastic educators from all walks of life on individual projects to adapt and curate existing IODP educational materials. Help us aim for the most useful and effective resources as we go into this next phase, and be a part of the thoughtful process of serving a more diverse audience.
Format: A webinar series on Zoom with both individual and collaborative work between sessions; collaborative work will take place on the SERC platform. Webinars will be live at 4:00 pm Pacific Time starting the first week of December. They will be recorded and available for watching later.
Who should apply: Middle and high school-level educators (classroom or informal science) with an interest and enthusiasm for Earth science, desire to learn more about scientific ocean drilling, and a willingness to work with us on educational materials for the next generation of science teachers and students. While you can apply alone, preference will be given to applications from 2-person teams from the same institution or organization (or other creative pairings, make a good argument!), so that you can work together and support each other. We are especially interested in educators who are familiar with and serve underrepresented audiences in the Earth sciences.
When: Nov. 30, 2020 – February 15, 2021
Application deadline: has passed
What are my obligations:
Attend or watch all the (~10) live sessions
Actively participate and provide feedback
Develop a mutually-agreed upon project with IODP and SERC to curate/adapt a subset of educational materials with a due date in February/March 2021
What's in it for me?
World-class webinars given by top IODP scientists
A community of like-minded educators and scientists working together
$500-$1000 upon completion of the project (to be determined through discussion of the scope of the project)
Questions? scooper@ldeo.columbia.edu
Webinar Schedule
All of the webinars below have been recorded and are available to the public here.
November 30:        Introduction to scientific ocean drilling and laying the groundwork for our work together (Sharon Cooper, IODP; Laurel Childress, JRSO)
December 2:          Habitability and Life on Earth (Steve D'Hondt, University of Rhode Island)
December 7           Global Cycles of Energy and Matter (Cara Burberry; University of Nebraska, Lincoln)
December 9           Earth's Climate System (Suzanne O'Connell; Wesleyan University)
December 14         Tipping Points in Earth's History (Sean Gulick/Chris Lowery, University of Texas Institute for Geophysics)
December 16         Understanding Global Change (Lisa White, University of California Museum of Paleontology)
January 4              Project planning discussions
January 6              Oceanic Life Cycle of Tectonic Plates (Ross Parnell-Turner, Scripps Institute for Oceanography)
January 11             Feedbacks in the Earth System (Peter Clift, Louisiana State University)
January 13            Natural Hazards Impacting Society (Marta Torres, Oregon State University)
——————————————————————————————————————————————————————————————————–
To read about past School of Rock workshops, click on the links below:
School of Rock 2014 – Deep Dive
School of Rock 2014 – Understand Earth through Ocean Cores
For more information, watch our School of Rock video and our video about educators on the ship! You can also read our assessment report on School of Rock here.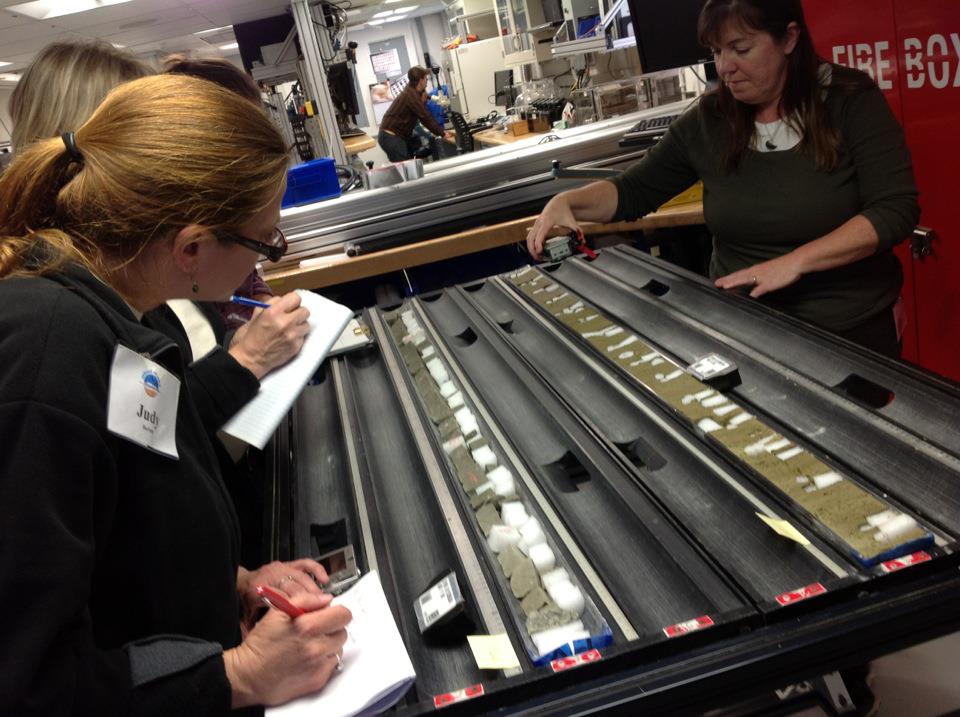 Questions? Contact Sharon Cooper: scooper@ldeo.columbia.edu