Our School of Rock (SOR) program is a professional development opportunity for formal and informal educators onboard or involving the JOIDES Resolution. While living onboard the ship (when possible) or in a land/lab-based workshop, teachers will work with scientists and technicians to learn about many aspects of earth science, geology, paleoceanography and more done aboard this amazing ship; what we learn from scientific drilling; and how to do the kinds of scientific analyses and lab exercises our scientists do. This newfound knowledge will help teachers in creating and/or modifying existing resources for their students in many areas of the science curriculum.
School of Rock workshops usually occur once a year, during a transit or tie-up period for the vessel.
The deadline to apply for our October 2023 program is May 29, 2023.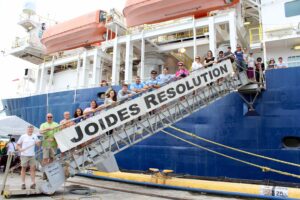 ---
Announcing our october 2023 School of rock: A Professional development opportunity at sea
We are excited to announce our School of Rock in October 2023! Educators will live and work aboard the JOIDES Resolution during our transit from Reykjavik, Iceland to Amsterdam, the Netherlands. Participants will immerse themselves in cutting edge science content and processes, while collaborating with program staff and each other.
We are seeking enthusiastic, thoughtful, and creative educators, from formal or informal settings, who have an interest in developing curriculum. The goal of this SOR will be to revise and curate resources drawn from existing IODP curriculum and materials. We are looking for teachers who serve broad and diverse groups of students, thereby enhancing participation by communities traditionally underrepresented in the geosciences.
Participants will have the opportunity for pre- and post-expedition projects and payments based on these projects.
We are partnering with AGI, the AUC Data Science Initiative, and the Morehouse Center for Excellence in Education on this October program.
When: The School of Rock workshop will take place October 12-24, 2023, and there will be a pre-departure meeting in Atlanta, GA, July 17-18.
Where: Onboard the JOIDES Resolution. Participants will board the JOIDES Resolution in Reykjavik, Iceland, then sail to Amsterdam, Netherlands; pre-boarding field trips in Iceland are included in these dates.
For whom: The workshop is open to U.S.-based educators of learners in Grades 5-12 and informal settings, with demonstrated experience and interest in curriculum design.

Cost

: All travel expenses will be covered or reimbursed for accepted participants. This program is supported by the National Science Foundation.
How to apply: Application deadline is May 29, 2023, through USSSP's application portal.
COVID protocols: Pre-boarding testing and masks while on board may be required. Adherence to the protocols in place at time of the workshop will be expected.
Questions? Contact Sharon Cooper: scooper@ldeo.columbia.edu
———————————————————————————————-
To read about past School of Rock workshops, click on the links below:
School of Rock February – March 2023
School of Rock 2014 – Deep Dive
School of Rock 2014 – Understand Earth through Ocean Cores
For more information, watch our School of Rock video and our video about educators on the ship! You can also read our assessment report on School of Rock here.