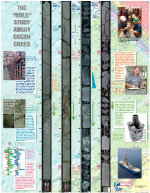 Free Superfast Spreading Hole Poster!
There is a poster available that is all about the hole the JOIDES Resolution is currently drilling in. It was designed by the Deep Earth Academy as an educational tool for high school and undergrad classes. It includes images of cores and data from a past expedition to this hole as well as activities that expand the learning. And it's free!
This poster, titled The "Hole" Story About Ocean Cores will introduce your students to core description and curation techniques used by JR scientists and technicians. The poster is all about Site 1256, the site we are drilling now, but uses core images and data from the second expedition to this hole (Expedition 309 – Superfast Spreading Rate Crust 2). The core images on the front of this poster are from different depths in this complete section of upper oceanic crust (the first of its kind) recovered from Site 1256. The plans are to update the poster with data from our current expedition, but it is still a very useful resource now.
This poster includes background information and five classroom activities, which are printed on the back. Lab groups can work together to examine high-resolution photos and data from four cores taken at various depths in this first-of-its-kind complete section of oceanic crust. Copies of
The "Hole" Story About Ocean Cores
poster are available free of charge by e-mailing
education@joidesresolution.org
The two best activities that can most readily be used in classrooms are the density of the crust activity and the drilling rate activity. Both activities use real data from expedition 309. The density activity allow students to determine the relationship between density and depth in the ocean crust, while the drilling rate activity allows students to calculate the drilling rate of Expedition 309 over the course of three days.
The other activities allow students to identify and describe distinguishable characteristics in one or more core sections, use guides to catalogue and label one or more core samples, examine and match whole thin section photos taken under the microscope to the cores from which they were sampled.
To download any of these activities, visit here. To order copies of The "Hole" Story About Ocean Cores poster free of charge, e-mail: education@joidesresolution.org