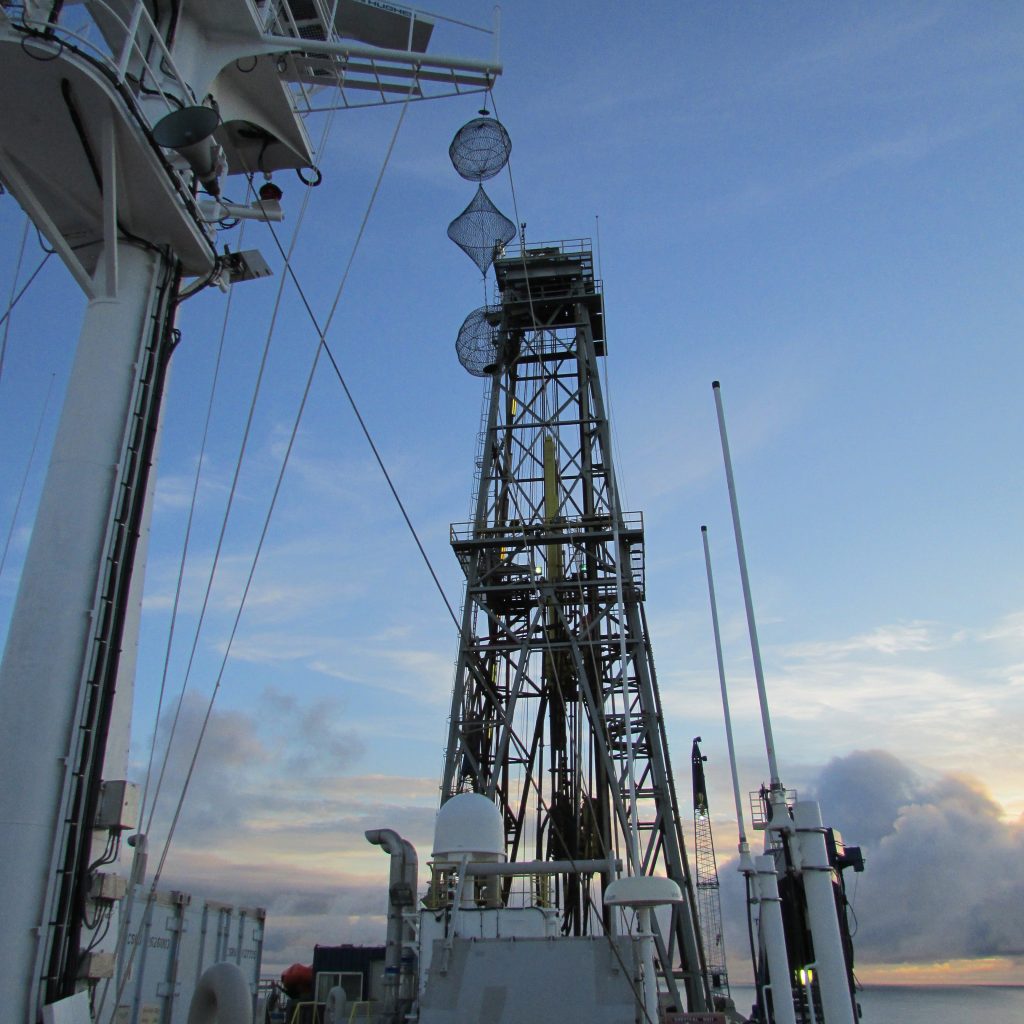 Just when we thought we had seen nearly everything on the JOIDES Resolution things have started to change. The crew is making preparations for our arrival in Valdez, AK on Monday. We will depart our final site tomorrow (Sunday) at 1:30 pm and are scheduled to meet the pilot at the mouth of Prince William Sound at 7 am. Expedition 341 has been a great success from both a scientific and an education & outreach perspective, and it wouldn't be possible without all of the crew who work behind the scenes to keep the JR in tip top condition.
One of our favorite places to visit is the Bridge. Captain Terry Skinner, Chief Mate Anton Sutiagin, and Second Mate John Powell are always happy to entertain our questions and discuss navigation. Here, Captain Terry shows us our route into Prince William Sound. Our safety is their top priority, and they run an extremely efficient operation here on the JR. We couldn't have asked for a better Bridge crew!
The ship's crew is constantly working to ensure things are in good working order on the ship. There's an endless amount of preventative maintenance and upkeep that needs to be done to keep the JR running safely and these guys do it with pride. Here, Perfecto Cruz and Mel Caig prepare the mooring lines for our arrival in the Port of Valdez! This might just be one of their favorite jobs because it means they get to go home soon!
Our stewards, Joel, Leo, Ryan, and Juny, are shown above taking a moment to enjoy the Gulf of Alaska sunshine. This crew keeps the JR wonderfully clean and are so welcoming and friendly. It is clear that they take great pride in their jobs and they make the JR feel like our home away from home.
I've already raved about our catering crew in previous posts, but I'll do it again because food is such an important part of life on the JR. From our elaborate 4th of July/Canada Day feast to outdoor BBQs (shown here) and our wonderful daily spread of dishes in the Galley, our catering crew takes such great care of us. Camp Boss Taylor (on the left) is a master at planning meals for a such a diverse mix of people on the JR. Our bountiful meals are beautifully executed with the help of catering staff members Lorento (right), Glen, Efren, and Robert.
Meet Dr. Gene Molina! Not only does he have the best laugh, but he also keeps everyone happy and healthy. Ready for any medical emergency, Dr. Gene is a multi-talented physician. We are lucky to have Dr. Gene on board, and fortunately he did not have to use these paddles on Exp. 341!
As you can see, we have a highly skilled and caring crew. We will miss our extended JR family!