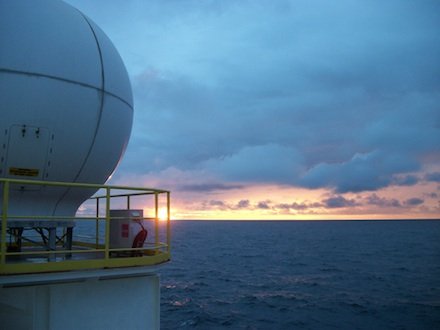 Happy Thanksgiving! (with bits of core here and there)
Sunset from the Helo Deck…
Where are we now?
Hole U1412C, off the western coast of Costa Rica, in the Pacific Ocean. Our coordinates have changed slightly to 8°29' N, 84°8' W. Some rain this morning, and on and off all day. Air temperature is 27 °C (80 °F) and the water temperature staying steady at 33 °C (91 °F), humidity: HIGH.
Scientists at Work
Coring Update from the Daily Report: (This pretty much sums it up)
At 5:30 am: Trying to core at the moment with drilling conditions so-so. As of 8:00 am: Hole conditions not particularly good, with high erratic torque.
Core on Deck! This mid-morning announcement had everyone outside on the Core Deck eagerly awaiting the core.
By this afternoon, we had pulled up some short pieces of core and spirits were still high. This core consists of small pebbly unconsolidated "gravel" that they say could be from anywhere in the hole.
Several scientists were interested in getting samples and discussing the structure.
Life on Board
Thanksgiving on the JR! From incredible ice sculpture to edible carrot bouquets!
Photos courtesy of Alberto Malinverno
Hats off to Camp Boss Taylor McKirdy, Assistant Chef Efren Adona, and the whole kitchen staff!
Photo courtesy of Arito Sakaguchi
Transforming traditional Thanksgiving foods into works of art, and filling the ship with the tantalizing smells of roasted turkey and all the trimmings, as well as tempting us with a plethora of crafted desserts that tasted as wonderful as they looked.
Stuffed and happy, from above the subduction zone…