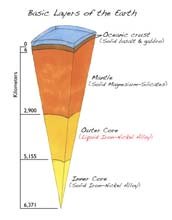 Okay, so here we are, back at a scientific drill hole that's already pretty deep — 1.5 kilometers below the seafloor, to be exact. And, if all goes well, before this 6-week expedition is over, we'll increase the depth of the hole by another 400 meters into the lower oceanic crust.
But some folks have asked us recently why we don't drill to the mantle — or for that matter, Earth's core. Since we're already here, why not go all the way, right?
Well, as you can see from this drawing, the mantle and core are still a long way from where we sit here at the top of the ocean.

To begin with, there's more than 3,600 meters of water that lie between us and the seafloor — and the point at which the Earth's upper crust begins. From there, we're going to try to extend Hole 1256D to a total of roughly 2 kilometers into the oceanic crust (the crust itself is 6 kilometers thick). If we're successful, the bottom of the hole will still fall short of the crust-mantle boundary by almost 4 kilometers.
And yet, reaching even 2 kilometers into the crust holds great promise of scientific discovery. Samples from these depths will yield a wealth of new scientific information that will expand our understanding of the formation of the oceanic plates that cover more than 60% of the surface of our planet.
Illustration by Sarah McNaboe (Integrated Ocean Drilling Program-U.S. Implementing Organization)