Lloyd is studying the physical properties of the core on the JR and specializes in downhole measurements. After we finish pulling the core up, we send special equipment down the hole to gather additional data which Lloyd then helps interpret for the rest of the scientific party. He is currently a lecturer at the University of Wollongong in Australia.
Here's what he had to say about "Captain James Cook" by Rob Mundle: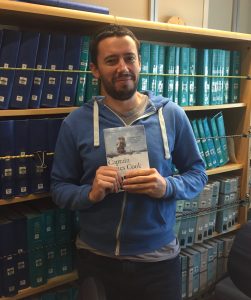 On the day I was set to leave home to join the ship, I trawled Amazon and went on a book buying binge. Many of the books I bought had some kind of link to Australia's maritime history. There were two reasons for this: the first is that I figured it would be good to read about boats and exploration because we are exploring (we have a much nicer way of life onboard and we are exploring what exists beneath the seabed rather than mapping the coastline of islands) and the second reason was that I read a book by Rob Mundle a few years ago and really enjoyed it more than I thought I would.
There was an additional challenge. After buying so many nautical themed books (several by Rob Mundle), how should I decide what to read first? I settled with the one on Captain Cook as this seemed fitting after I learned that the JOIDES Resolution (JR) is actually named after, HMS Resolution, one of the ships that Captain Cook sailed.
As I am writing this, I only have one chapter to go…and while I know how the story will end, I've really enjoyed reading a chapter each night before I go to bed. The book charts Cook's life from beginning to end but primarily focuses on his exploration along the east coast of Australia including his forays into the deep south of Southern Ocean and across the Pacific. He discovered so much and he was such a good navigator and cartographer that in some parts of the world, we still rely on his measurements hundreds of years later.
I think the main thing that I've taken from reading this is how different our life is aboard the ship compared to what the early explorers experienced. We have GPS systems that tell us where we are, we have internet connectivity and can even have a video link to chat with our families back home, and we have fridges and freezers to keep food fresh. Early explorers obviously had none of those things. Also, we are also only away from home for 2 months, whilst all of Captain Cook's voyages lasted for at least 2-3 years (primarily because he was particularly driven to discovering new things and not returning home without news of these discoveries). So, he left home and lost all contact with his family, meaning he had no way of knowing if his friends and family were alive and well. By reading this book, I've come to appreciate the things we have available to us onboard the JR that little bit more!