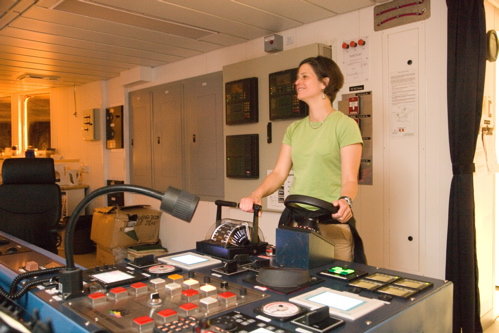 Just for Kids — Driving the ship!
Here's Becky conning (that's ship talk for drive) The JR off site 1333.  She took the helm at about 1800 hrs (or 6:00 p.m.) one Saturday night and steered us toward our next location.  Thanks, Captain Alex!
Check back soon for more of Becky's blog just for kids.
Click 2X to load video completely before viewing.
Photos:  Top — Right hand on the throttle, left hand on the helm.  Bottom — The compass and instruments from Becky's point of view.  Credit — Bill Crawford, IODP Imaging Specialist
Video:  Credit — Bill Crawford, IODP Imaging Specialist