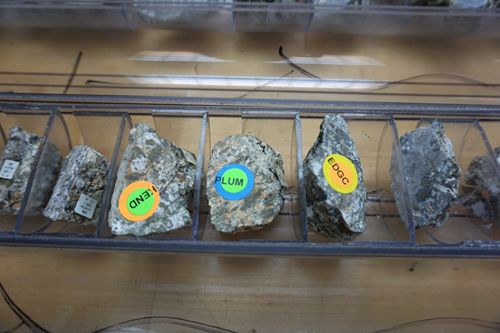 Let's Get This (Sampling) Party Started
Most people might think that once a core comes on deck the science begins, but even before that our scientists were hard at work. Well before the JR left Colombo, Sri Lanka our scientists submitted sample requests to our Sample Allocation Committee (SAC). These requests indicate the kinds of samples the scientists anticipate collecting from the cores.
We all know that after a core comes on deck it is first photographed and several parameters are measured. It is then cut in half. When the two halves are separated you are able to see the features inside. One half of the core is designated as the working half and the other is the archive half.
The archive half cannot be sampled, but it is carefully studied and its features are recorded. We measure the direction of faults and veins using the archive half.
The working half is also analyzed on the ship. We crack it open up to collect microbe samples, and crush parts of it to do elemental analysis on the rock. This is all done during the expedition aboard the JR, but the discovery doesn't stop there.
Scientists will now be allowed to choose what samples from the working half they would like to take home and continue working to understand. We call this a Sampling Party and they happen multiple times over the course of an expedition. If the recovery matches their expectations then they are left to decide exactly which rocks they would like to either take or have shipped home. If the recovery does not meet the initial expectations they outlined in their original request, they can submit a new request to the SAC.
The scientists are each given unique stickers. They consider all the cores that have been recovered so far and make a very careful decision as to how many and which pieces of the rock they would like to analyze. Our recent sampling party spanned about 27 hours.
Once the time is up the SAC carefully considers the requests. If several scientists request the same rock, decisions are made and scientists are encouraged to work together on projects.
Scientists then draw cut marks on the rock, they are marked with their orientation, cut, and packaged for the trip home!