By Matthew Campbell
Day 15 on the 2017 School of Rock Expedition began with a discussion on understanding Global Climate Change, and its relationship to human activities and processes happening today. Our group was exposed to new learning activities and modules designed by the educators at the Museum of Paleontology, University of California, Berkley Campus.  These activities provided hands on approach comparing the differences between 'cause' and 'effect' in relationship to changing climate, providing a valuable new resource for science educators.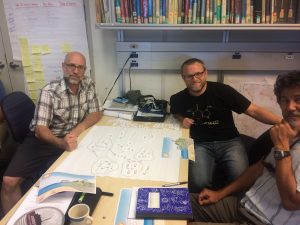 This activity led into a group discussion that provided insight into how the "rockers" could relay scientific findings to our students and the general public.  We debated how to efficiently and effectively inform these groups – focusing on increasing the diversity in geosciences.  Some ideas include teaching science as a process, becoming involved with the public (ie. city council, school boards), getting students to think critically and to not only problem solve but propose solutions.  Though this is just a short list, any way we are able to further inform and impact the students we teach will result in positive outcomes.
Following this, technology took to the lead.  Connecting through webcam, we were able to speak with Sarah ElShafie, a graduate student at the University of California, Berkley. Sarah has been working in consultation with educators at the University of California Museum of Paleontology and artists at Pixar Animation Studios in helping develop innovative ways to communicate science through stories.  Over the course of the past week, participants were invited to create short stories promoting the geosciences and providing a connection to students. We were able to share our ideas and stories with her, and receive feedback on how to better improve our stories for our intended audience. Who knows, maybe you will read one of our books one day!
The day ended with us experiencing a helicopter, outbound from Cairns, Australia landing on the JOIDES Resolution!! Exciting stuff!!! The helicopter circled the ship before landing, dropping off a technician before quickly returning to its airbase in Cairns, Australia.