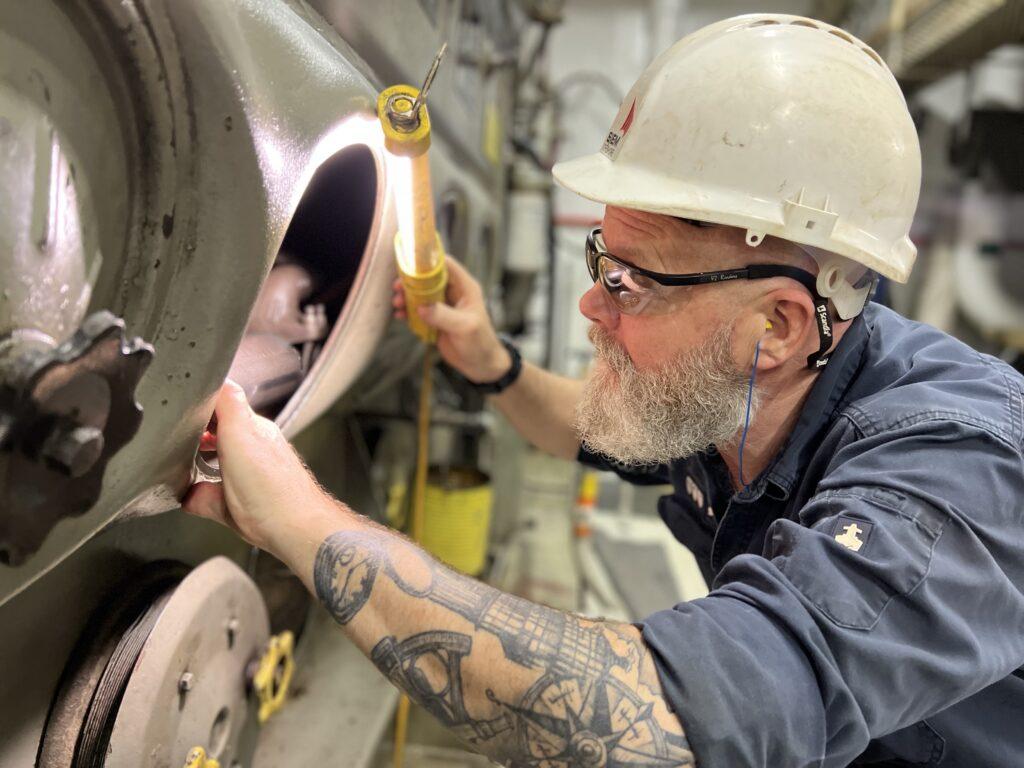 Ages and dates are big deal among Expedition 392's science team. And not only where sediment is concerned.
We've celebrated a handful of birthdays over the past weeks.  Most recently, the cake was cut and obligatory song was sung out of tune for igneous petrologist Peter Davidson. At 29, he's one of the youngest on the science team.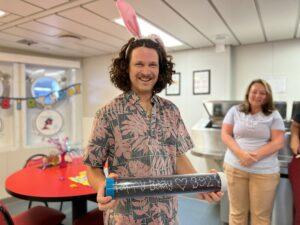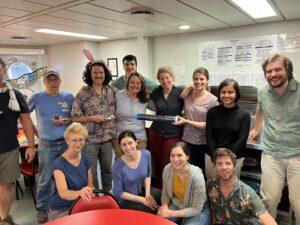 He's my daughter's age— putting me at the other end of the age spectrum of those sailing now on the JOIDES Resolution.
Solidly in the middle of this range of ages is our drillship. Built in 1978 as a conventional oil drilling vessel, she was retrofitted in 1984 to be the seafaring science ship that she is today. I find it impressive that the JR produces enough power to light up a small city. And that she has three different water makers, each producing 50 tons a day. (I do so appreciate my luxurious, hot shower every night.)
The JR's 19 fuel tanks hold a million gallons. So maybe I shouldn't have been surprised to hear her described as a floating gas can. And maybe I shouldn't have flinched when one of the tool pushers compared her to a model-T Ford. (Not sure how I feel about that, given that I bought my first car in '78, a sweet Fiat convertible that looked like a wedge of lime.)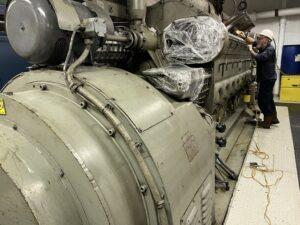 Clearly, I'm more aligned with 1st Engineer Ian Barnes, who's no secret admirer of the JR.  Having given me a tour of her engine room and extolled the finer qualities of the dozen 750-horsepower electric motors that drive two shafts, he convinced me about how pretty she is on the inside.
"They're tough," he bragged, referring to the seven engines in the engine room. "Very strong. Robust. Easy to maintain. Simple. Some have done almost 200,000 hours.
"I've seen them break and still want to start."
So the JR has a few years on her. More importantly, she also has heart.
Age is just a number, they say—which I think is a sugarcoated attempt to convince those of us of a certain vintage to be less panicked. I'm inclined these days to feel good about my accumulated years.
Clearly, the JR is too. This plaque on her rig floor pretty much sums it up: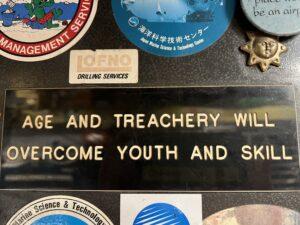 Age & treachery will overcome youth & skill