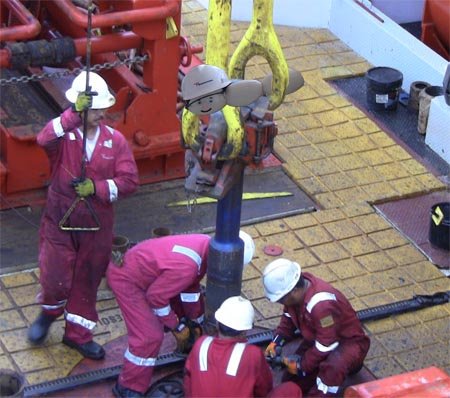 Hey! Do you guys need any help? There are many people on board the JOIDES Resolution that work everyday to make sure everything that needs to get done, gets done. As we travel from location 2 to location 3, the crew has been busy checking all of the equipment. Today, I would like to tell you a little about the Chief Mechanic, Ken Minto.
Ken Minto is the chief mechanic on the JOIDES Resolution, a very important job to the scientists who want to drill into the ocean floor. Ken grew up in England and he is the fourth generation of his family to work on ships. A friend told Ken about the company that owns the JR and Ken applied for a job. He was hired and then trained as a mechanic, which he did on other ships that are owned by Transocean. Then in 2009, Ken joined the JOIDES Resolution as Chief Mechanic, which he greatly enjoys. He really likes the view from atop the drilling derrick even though it can sway back and forth considerably! Ken's responsible for maintaining everything associated with the drilling operations of the ship and he also helps out in other departments when needed.
In his spare time, Ken likes to run vintage cars and motorcycles and he also likes horology, the science of measuring time. He has a workshop at his home where he enjoys working on clocks and watches. In addition to these things, he keeps in shape by playing cricket. Ken is the father of two grown daughters who also like to stay active by playing hockey and netball, which is similar to basketball.