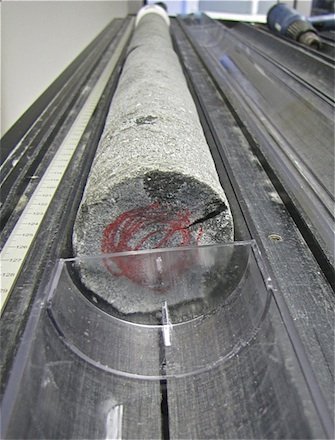 0
0
0
Where are we now?
Off the western coast of Costa Rica, in the Pacific Ocean, Hole U1414A. Our coordinates: 8°30.2' North, 84°13.5' West. Water depth is 2460 meters (over a mile and a half!).  Dark morning greets us, but by BBQ time at lunch, it was a beautiful day! Best temperatures we've had, with a nice cool breeze.
Scientists at Work
Every core that comes in must be laser engraved on the plastic case with permanent and specific information to identify the core at a later date.  This helps the curator of cores keep track of every single core that is taken out of the seafloor.  I placed my camera against the glass of the engraver to take these pictures. In the top picture, you can see the flames from the laser, and in the second you can see the red hot engraved "A."
We are all the way down past 433 meters (1,420 feet!) below sea floor (mbsf). Since the rock is very hard and takes some time, they are still bringing up half cores at a time.  A first look at today's cores shows dark to medium basalts, with a fine-grained microcrystalline matrix.
The circular saw is really getting a work out with these hard cores. Assistant Lab Officer Heather Barnes is a hard-rock core-cutting specialist with the circular saw.
A great deal of discussion is still going on around the tables amongst the geologists. Again, they will have to wait for further tests to confirm the chemical structure of these hard rock cores.
With geologists Walter Kurz, Yuzuru Yamamoto, Paola Vannucchi, and Videographer Thanos Fatouros
Many of today's cores still show very small gray-green phenocrysts that may be olivines or pyroxenes that filled in the vesicles left by bubbles of gas from when the rock was molten. A phenocryst is a crystal imbedded in a finer grained rock. Today's cores also have some fractures that have been filled in with white quartz.  The big swirls are just from the saw blade cutting the core.
Life on Board
Sigh…Our last BBQ of the expedition, hosted by the wonderful kitchen staff.  It was a beautiful day!
Each afternoon before dinner, to get some exercise, I walk around the Helo deck for 30 minutes. Yesterday, there were two little sea birds hanging out.  They stayed the whole time I was walking. Today, there were three! I wonder how many there will be tomorrow?
Spotlight On Schools (SOS):
SSP = School Success Profile. The SSP program promotes student success and creates reports that provide insight into how students perceive themselves and their environments, and an understanding of the assets and concerns of groups of students.  The SSP Program gave me a school T-shirt to take along with me to the Costa Rica Seismogenesis Zone! In the photo, can you "guess" where I am standing on the ship?
Like ships in the night…a container ship on the horizon at dawn
For more photos, see our Facebook page!
From the Hard Rock Café on Cocos Avenue!