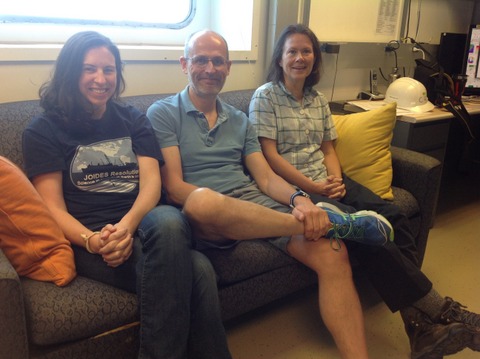 I owe my entire experience to the co-Chief Scientists, Ian Hall and Sid Hemming. Were it not for them demanding that an Education & Outreach Officer be included on the expedition, even though the ship was leaving in less than 3 weeks, I would not be here. I also have to thank the Staff Scientist (our supreme leader!) Leah Levay for putting up with my learning curve. Of course, I also owe an enormous debt to the Educational Coordinator, Sharon Cooper, who selected me among all the applicants. I can't get too big-headed, though. My guess is that I was one of the only applicants willing to drop everything with just over 2 weeks' notice and take off for 2 1/2 months! But it has been the adventure of a lifetime.
I've participated in a number of scientific research projects in the course of my 15 years as a Providence teacher, but this is the first one I've felt I've gained as much as I've enjoyed myself. I can't believe how much I've learned in the 2 months – between conversations at meals, twice-daily crossover meetings, site and research presentations, and the transit special science talks, I feel like I should add a minor in Paleoclimatology to my college degree!
This is also the first time I've felt I've had my own unique niche in the project, a niche that makes me a true participant and colleague rather than just an extra pair of hands. Of course, I was very happy to be that as well – if not for offering my hands in service, I would never have discovered the wonders of the microfossil world, nor gotten to operate a scanning electron microscope!
I still, after 2 months, think that this ship is staffed with the best crew on the planet, and that this is the most amazing group of scientists (and I include the IODP technicians in my definition) with whom I've ever worked. I hope they have appreciated me as much as I've appreciated them, and if so – should anyone ever need an educator to participate in a project in Antarctica, pick me!!