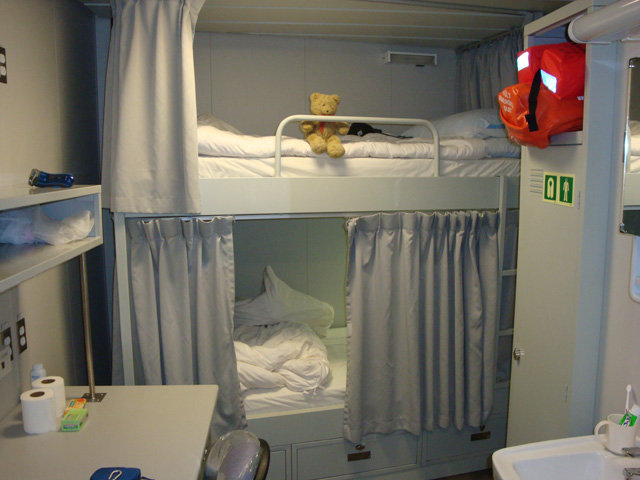 May 6th, 2009
This morning I moved onto the ship.  I met lots of new people.  The inside of the ship is very confusing!  My room is located 2 floors down from where we got on the ship in what is called the "upper tween" deck.  And guess what!  We have bunk beds.  I am on the top bunk.  There are two people per room (or "berth" which is sailor talk for room), and two rooms per bathroom.
In the morning, there was a ceremony for the ship to make sure that it has a safe journey.  After the ceremony, we got a tour of the ship's science capabilities.  On this cruise, we will be drilling the seafloor.  This is a very special ship that will allow us to bring up mud from the bottom of the ocean.  This mud will tell us about the history of our planet; but we will talk about that later.
After the tours, there was a party for the scientists going on the cruise, and the ones who just finished their time on the ship.  There were also very important people who do their best to make sure that we can pay for this trip.  So many people feel strongly about the importance of the ship's work, and they love science.  Every person on the ship is there because they love their work, and they want to share it with everyone in the world.
Tomorrow we start work, and get introductions to what life and work will be like on this trip.