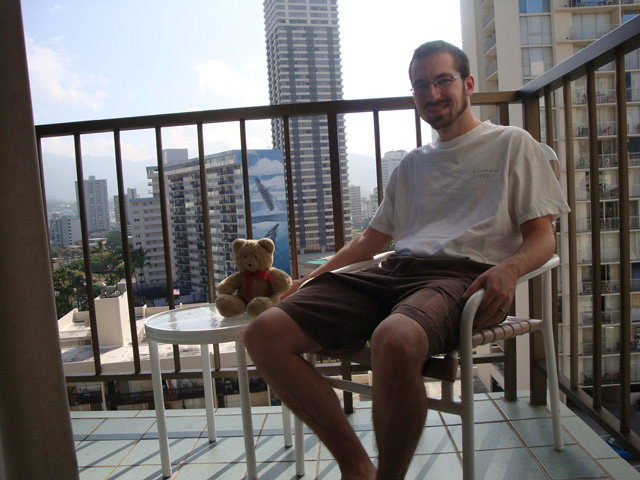 May 5th, 2009
Hello kids!  This is Buddy bear, the sedimentologist with a heart of fluff.  I am traveling with a group of scientists to the middle of the ocean, and I am going to tell you all about it.  I am traveling with Daniel Murphy.
We are going to be on a ship called the JOIDES Resolution.  This is a big ship!  Especially for a little bear like me!  It is 470 ft long, which is about as long as 30 cars!  The scientists are from all over the world, from places like Texas, Japan, and Italy.  They are all really nice.  I will introduce you to some of them over the next month.
Today I am in a place called Hawaii, so I guess I should have said Aloha!  Aloha means hello in Hawaiian.  This is where I am going to get on the ship.  Hawaii is a beautiful island in the Pacific Ocean.  It has beaches, and palm trees, and colorful birds, and very nice people.  To the people of Hawaii, there is nothing more important that 'ohana'.  Ohana is the Hawaiian word for family, and the Hawaiian people love their ohana more than anything in the world!
Today I went to a beach called Waikiki.  There were a lot of people and the sand was so much fun to walk in!  The waves on the ocean were moving more sand up on the beach, and were making a sound like the one you here if you hold a shell up to your ear.  I laid on the beach for a while, but I remembered to put on my sunscreen, because there is nothing a bear hates more than a sunburn!
Tomorrow I will get on the ship and meet all the new people.  In the meantime, remember to give your ohana a big hug and say "Aloha" to all of your friends!