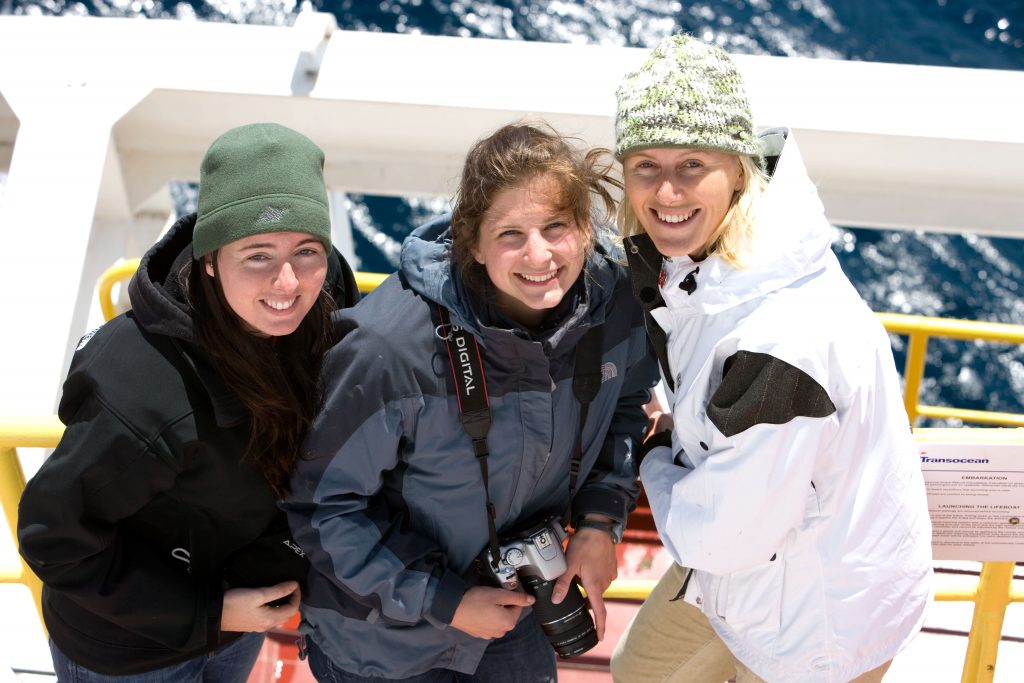 No news is good news-that's my reason for not blogging of late. Since we reached the Bower's Ridge the paleontologists (myself included) have had their hands full getting through all the core catcher material; making slides; and trying to give the other scientists an estimate on the age. This has meant hours of microscope work to try and find those bugs that tell us where we are in the core.
Pictured left to right are Emily Walsh, Heather Schrum and Zuzanna Stroynowski enjoying a moment outside to look at the birds and hopefully mammals.  Photo by Bill Crawford.
This is my first time working as a biostratigrapher, and I have to say I've been amazed at how this method really works (!) Maybe I shouldn't be saying that, but it's true. I never imagined that diatoms were so accurate in their appearance and disappearance, and it's fascinating to see how certain species have evolved- losing spines, or becoming more complex in structure. Working alongside the other paleontological specialists has been very interesting too-comparing results and discussing ecological changes.  Although the biostratigraphy boot camp is very intensive and I feel as if my brain will melt at times, I have to say I've learnt more in 4 weeks than 6 months back home.