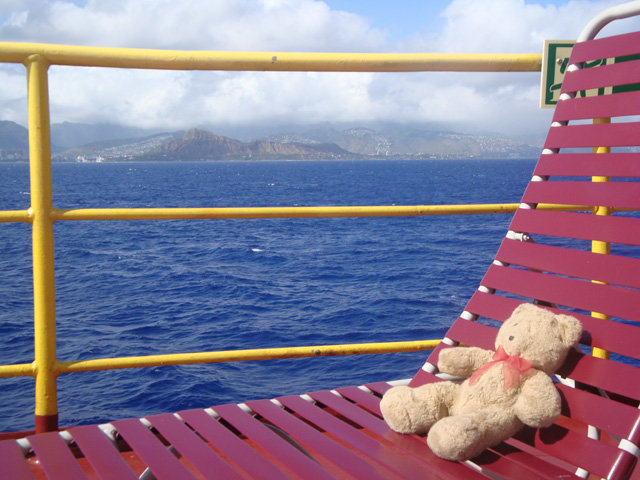 May 9th, 2009
Hello again!  Buddy bear here.  Very early this morning we left Hawaii and started to head toward our first study site.  We stopped off shore of Hawaii to test some instruments, but eventually we started on our way again. 
In the morning we had a meeting where all of the scientists explained their interests in this cruise and what science they planned to do with the mud that they got back.  There were a lot of interests shared by the group and there should be many instances of scientists working together on projects.  
After an excellent lunch, we had a fire drill, just like you have in school.  Everyone has an assigned lifeboat that they are supposed to gather in in case of emergency.  The lifeboats are very safe.  They are fully covered, have an engine and propellor, and can seat a maximum of 70 people each.  Since there are four lifeboats, everyone should be fine in case of emergency. 
Our dinner included fish, pork chops, and tortellini, as well as steamed green beans and cauliflower and french fries and white rice.  I also had some ice cream for dessert.  
Tomorrow we will start our jobs with real cores of mud.  I will also start to explain what kinds of mud we get in our cores and how we read them like a story.