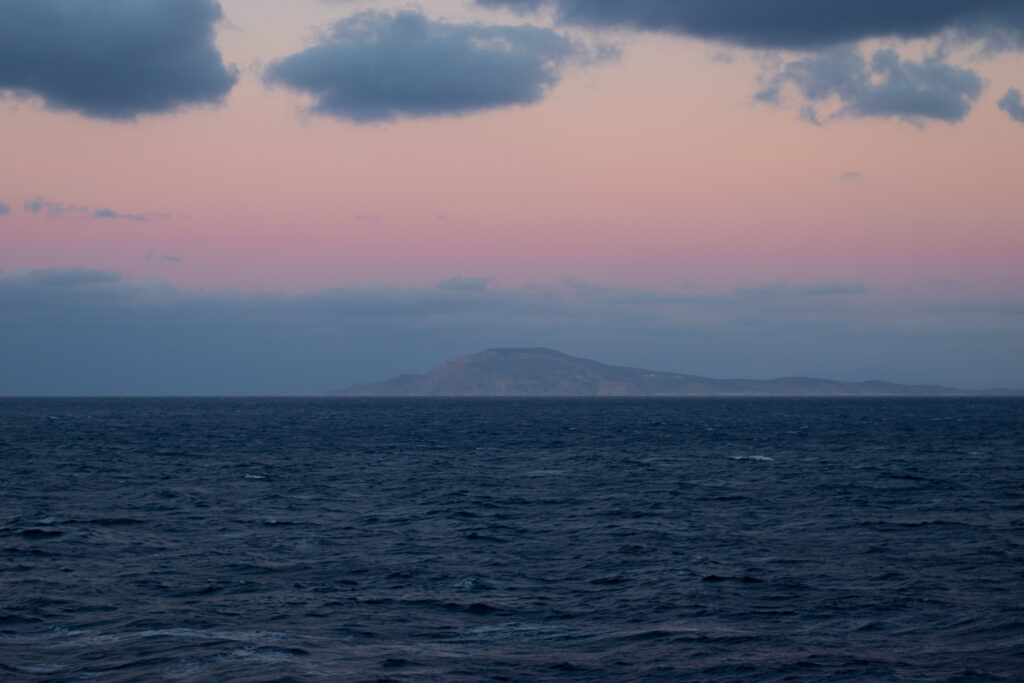 One week at sea and we're out of bananas
"It's been three days since I was outside…" I hear as a group whooshes by my desk. My office is next to the door outside, so I get snippets of conversations as people pass seeking vitamin D.
I'm the outreach officer on a scientific research ship called the JOIDES Resolution, and we've been at sea for a week. We sailed from Tarragona, Spain, to a site near Santorini, and we've been parked in place for three days, drilling for samples of sediments and rocks—called cores—underneath the ocean.
It's not that surprising that the scientist passing my office hadn't been outside for several days. Work on the ship is intense, as researchers try to make the most of the two months they have on board and get as many high-quality core samples as possible.
There are at least two scientists assigned to every role on board, with one working a shift from noon to midnight and the other from midnight to noon. After being on their feet for twelve hours, I see lots of stretches and back adjustments in the galley at mealtimes.
The shifts are long, but every time I hear that they've seen something unexpected in the sediment samples, there's a glint in the scientists' eyes. This trip is the culmination of years of planning. For some, they've been studying the region we're drilling in for their entire career.
Our mission is to discover a more complete history of the volcanic system around the islands near Santorini. Three submarine volcanoes—Christiana, Kolumbo, and Santorini—make up this system, and they've exploded hundreds of times over the last 360,000 years. Most famously, a massive eruption of the Santorini volcano in the Late Bronze Age might have played a role in the decline of the Minoan civilization on nearby Crete.
What we know about these volcanoes comes from studies on land and shallow samples taken under the ocean with a drilling system that uses gravity to plunge into the sea floor. Yet most of the products that linger after one of these volcanoes erupt are deposited onto the nearby sea floor. That record is much older and deeper than what's been reached so far.
That's why we've brought the aging, but powerful, JOIDES Resolution to the area. The ship is an oil drilling rig converted for scientific research in the early 1980s, and it can pull up core samples of muds and volcanic products from as deep as 5 miles (8km) below the surface of the ocean.
Over the next seven weeks, we'll use the ship's drill to push down to 2200 feet (765 meters) below the sea floor and get samples that can extend our understanding of this volcanic system and others like it around the world.
At our first of six drilling sites, work has been smooth. Glassy waters are a welcome relief for those who suffered in the 3m waves on our trip over from Spain. The islands all around us offer—to those who make it outside—a stunning reminder of the places we hope our research will protect from future eruptions.
We'll be taking short breaks as we go to appreciate the beauty around us and the excitement of being the first to see new pieces of geologic history, and if you see us from the shore float out some fruit—the bananas are already gone!