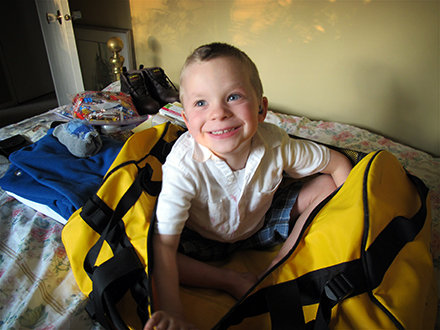 What's the one thing you would want to have with you if you were stranded on a desert island? How do you live without the rest?
While the JR is definitely not a desert island (it does have a movie lounge, workout room, library, and 120 inhabitants, after all), there certainly isn't a Starbucks or even a grocery store on the corner, so whatever you need for two months, you've got to bring with you. And while I get to take much more than just one thing along, I am still limited by space, weight and the amount that I can realistically carry from Vancouver to Toronto to Barbados and onto the ship! I'd like to share three things I'm bringing that really got me thinking about life at sea.
1. My brand-shiny-new steel-toed work boots. I am so excited to get inside the JR and see how everything works! From the rig floor to the catwalk to the science labs, there is so much to learn on such a big, busy ship. And steel-toed boots mean that I'm going to be right there with the people who do this all the time: bringing up a core, watching on the bridge or in the engine control room, or helping out in the core lab.
2. My super-cool JOIDES Resolution Flip video camera. First of all, how cool is that…an official JR video camera? I feel like a part of the crew already. I am really looking forward to getting to know the people, jobs, science and fun on the JR, and my handy little Flip will let me share it with everyone who can't be there with me. There will be a film crew onboard with me making a documentary during our expedition, so this little camera won't really compare to their equipment, but it will sure help me capture those everyday moments that pass by so quickly!
3. 60 individually-wrapped Starbucks espresso pods. I have to admit, I really like a white chocolate mocha in the morning. Every morning. When I'm at home, I make them myself; when I'm traveling, I will go to great lengths to search out a Starbucks or other local espresso bar to fill my cup. But on the ship, I'm on my own. I happen to know that there are, thankfully, a few espresso machines onboard, so I have packed my coffee and my white chocolate mocha syrup and I'm good to go!
I don't know if I could survive 60 days at sea with just what's on this list, but I definitely wouldn't be happy without them! What would you just have to pack for an expedition on the JR?