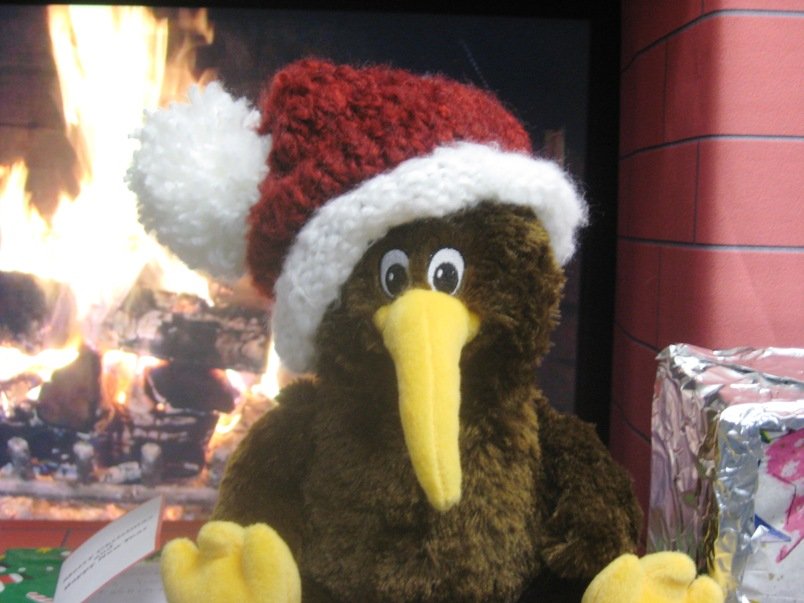 Twas the Night Before Christmas On the JR
Twas the night before Christmas, and all through the ship
The report writers tried to give Peter the slip.
The figures were hung on the lab walls with tape,
But from the revisions, they cannot escape.
Craig and Koichi roam the ship far and wide
Any crisis these co-chiefs can take in their stride
With Steve's help they decide how deep we should go,
We'll set some more records I certainly know
The paleo team were hunched over their scopes,
Of finding a boundary they had very high hopes
There are forams and nannos and diatoms here
With a little hard work, their story comes clear
The technicians all scurry, so lively and quick
When you need help, they will know just the trick
Cutting and capping and scribing's the start
Of splitting the core they have made quite an art
At the sampling table there arose such a clammer
As cylinders were wacked with a block and a hammer
Into Sample Master they go in a flash
With scientists hoping the program won't crash
Without the developers and our two MCS
The software and computers would be quite a mess
From programs to email to internet and more
If you need tech help just knock on their door!
In physical properties they were working away
To find how much stress before the core gives way
P Waves and density and many things more
We'll leave knowing lots that was unclear before
At the split core, the sedimentologists look
Deciding the color with their Munsell book
Grain size and contacts and smear slides galore
Every  feature will be well described on this core
The PMag team always knows their direction
As they take mag readings on their core sections
Their equipment's quite accurate – never a liar
But is occasionally confused by a stray piece of wire
In the back of the chem. lab the microbiologists hide
Spending their day looking at slide after slide
At the end of this very  careful examination
We'll know if the core contains contamination
Things like Squeeze Cakes, IW, and TOC
Make the geochemists dance with Glee
It's amazing what they learn about the core
From the fluids they find in a tiny pore
The drillers look festive in their jumpsuits of red
These guys are true craftsman, it must be said
They have achieved a feat of great enormity
By taking us past the Marshall Paraconformity
The loggers on call never know when they're needed
They have to jump when the hole is completed
Resistivity, conductivity – it takes a quite a while
And if no whales are seen we get a seismic profile
The catering staff are all as busy as elves
Pulling ingredients down off the top of the shelves
We can be assured of a great Christmas treat
When we see what they have served us to eat!
Doc Jeff in the hospital keeps us all well
While Bill with his photos a story does tell
Lara makes sure sampling is done to the plan
And of Debbie's organizing skills, I am a great fan
The Captain, the mates and the rest of the crew
They guide us so safely on this ocean of blue
And the ship engineers will have a solution
When the toilets break down on the Resolution
Now Crossover meeting is almost through for the day
And everyone has work to do so just let me say
To spend this day on the JR is such a great gift
Happy Christmas to all and to all a good shift