Postcards from Scientists – Carmine's rocks and the Roaring Forties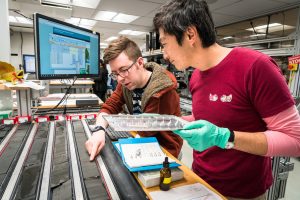 Hello curious people! My name is Carmine Wainman and I am a British Sedimentologist onboard Expedition 369 on the JOIDES Resolution. I have just submitted my PhD and now I work as a Postdoctoral Fellow at the University of Adelaide in Australia.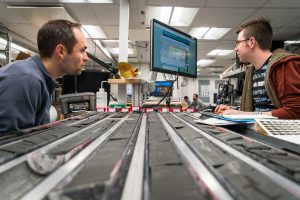 My research will involve unravelling the secrets of the Cretaceous rocks in the Bight Basin south of Australia. We can use this ancient record to provide insights into how the Earth behaved during a greenhouse period and how the planet may respond to similar conditions in the future.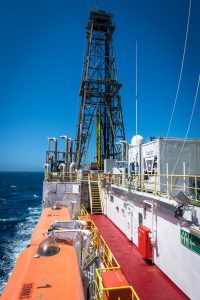 As one of 26 scientists onboard, we each have a part to play in gathering data from the cores we drill during the expedition for the benefit of everyone on the ship and for future researchers. My role involves visual and microscopic descriptions of any core material that arrives from the below the seafloor and I do this in collaboration with other scientists in my team.
Together, we describe everything from the mediocre (colour) to the unexpected (things not predicted beforehand by those onshore). When the core has rested for a number of hours to reach room temperature, technicians split the core into two halves; one half is sampled and the other kept as an archive. Sometimes we have a lot to describe and sometimes nothing at all.
When our eyes struggle as the rock is so fine grained we use microscopic techniques to assist in core description. As we often work against time, these are available to us in a few hours – something we can only wish for when conduct our own research on land. Once the hole is drilled, we compile all the data into a site report and it starts all over again.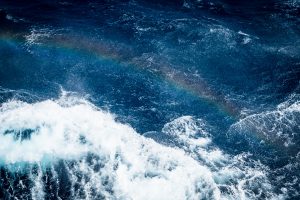 This is my first time sailing on a research vessel and it has certainly placed me outside of my comfort zone. Sailing through the Roaring Forties on our departure from Tasmania opened my eyes to the power of Southern Ocean.
On the positive side, everyone is extremely well looked after irrespective of shipboard experience. I have to thank the shipboard doctor with helping me overcome seasickness during my first week onboard. One of more interesting quirks is having all your needs attended to so you can live and breathe science during your assigned 12 hour shift. Taking a shower when there are big swells and learning to comprise with your team are all new things I have learnt while on ship.
Photos: Vivien Cumming