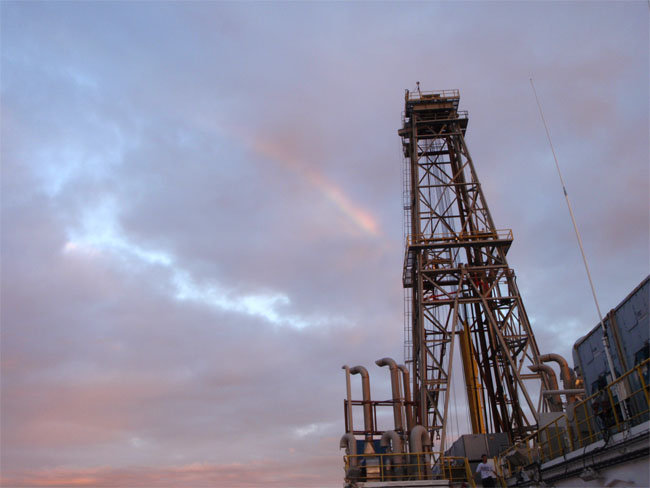 Hello again, from the physical properties lab. One of the interesting things about life on board the JR is the work shift schedule.

All scientists "pull" a 12-hour work shift. And there are no vacations on holidays or weekends. Half of us work from noon to midnight, local time, while half work from midnight to noon. I am one of the latter scientists, so I have to go to bed at 2:00 or 3:00 in the afternoon and get up at 9:00 or 10:00 at night to get ready for my day. We are in the process of shifting to our watches, which, essentially means that I am going to try to stay up for about 18 hours today to adjust to this schedule.
It also means that I will not see the sunset while on board the JR, but when the work load is light, as it is before coring operations begin, I can go out and view the sunrise. Today it has gotten distinctly cooler, as we head south. The sunrise was spectacular, again. But the amazing thing was found by turning around and looking aft (towards the back of the ship). This rainbow stretched from the ocean all the way to our derrick. I think it is an auspicious sign for expedition 317!