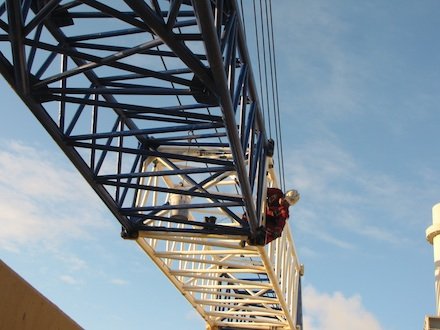 0
0
0
How to paint a crane!
Where are we now?
Off the western coast of Costa Rica, in the Pacific Ocean, Site U1412. We moved 15.0 nautical miles during the night to our new coordinates: 8°29' North, 84°08' West. Back to deep water: 1940 m! The water temperature is 33 C, and air temperature is 26 C.
Scientists at Work
Core On Deck! We got our first core at the site we returned to this morning about 8:00 am at 360 meters below sea floor (mbsf).  We are back in the deeper water, 1940 meters (6400 feet)!
The scientists really want to be able to get down to the décollement here, at a slightly shallower depth than we attempted last time we were in this area. 
Micropaleontologist Alan Baxter and Inorganic Geochemisty Evan Soloman
discuss a core catcher specimen
Unfortunately, about 10:30 am, the drill team encountered serious drilling problems, and so far, attempts to get unstuck have been unsuccessful.
After we leave this site, we will go to CRIS Site 19A, where several scientists have expressed their interest in getting cores and downhole logging, as well. Time will tell…
Life on Board
SOS! Spotlight on Schools:
The Tierra del Sol Middle School Sundevils in the Lakeside Union School District, Lakeside, California, gave me a school T-shirt to take along with me to the Costa Rica Seismogenesis Zone!  In the photo below, can you guess where I am sitting on the ship?
The steepest and longest stairs that I have ever seen in my life are the ones that lead down to the gymnasium (on the left at the bottom) and the movie theater (on the right at the bottom). 
The gym was deserted today when I went down there…but many people TELL me they work out.  Hmm…
The movie theater has four VERY comfortable couches and a big screen.  You can make popcorn in the little kitchen if you want!  There is also a good sized library of used books in the smaller TV room outside of the movie theater with many, many books that people have left there during years of expeditions.
I wasn't going to post a sunset picture tonight, because there have been too many. I wasn't even going to TAKE a sunset picture tonight, but I grabbed my camera nontheless as I headed out for my evening walk 47 times around the helo deck, thinking…you never know what you might see.  Well, for the first time in my life, I actually saw the Green Flash, and I would not have believed it if I didn't see it with my own eyes.  Impossible, of course, to get a photo. But I did have to take a photo of the sunset just after the flash!  Thank you, sun!
For more photos, see our Facebook page!
From the Toe Zone…