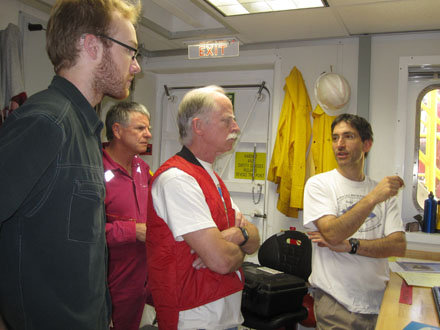 Scientists, Engineer and Student pour over early results of a very important test
A first look at the data after a 24 hour Tracer Test appears to intrigue all. I suspect they all will be tossing and turning at night while the graph stays in their minds. They have waited years for this day. Here they are discussing the data.
One of the important goals of this expedition was to place several tracer substances in one of the holes so that years from now, research ships can go to nearby holes to retrieve data. Perhaps they will detect the tracers. They will have a greater understanding of sub seafloor water movement!
I work at one of those places where the people love to be. It is St Ursula Academy in Toledo, Ohio. If you checked out our website, you would see the smiles and dedication that reflect the friendliness that I find everyday there. My work for the last two months has been in a similar place. The JOIDES Resolution (affectionately called the JR) is a special ship, not only because it is unique in what it can do, and what it has done, but also because of the love for it by the many people who have worked in it and on it for many years.
They work hard doing science, but also will do all the little things to make sure this is well taken care off, no matter what their position or title is on board. A few years ago the JR was undergoing renovation. Some of the stories I hear over dinner speak so much of the love for the JR. I don't know how other ships are, but the people on this ship share in a labor of love for the JR every day!! Here are an engineer and photographer working together so solve an underwater camera light problem.
We have a long week ahead of us with a great deal of work to do. It is the last few miles in the marathon; I believe this group will finish the race well. They are just like that!