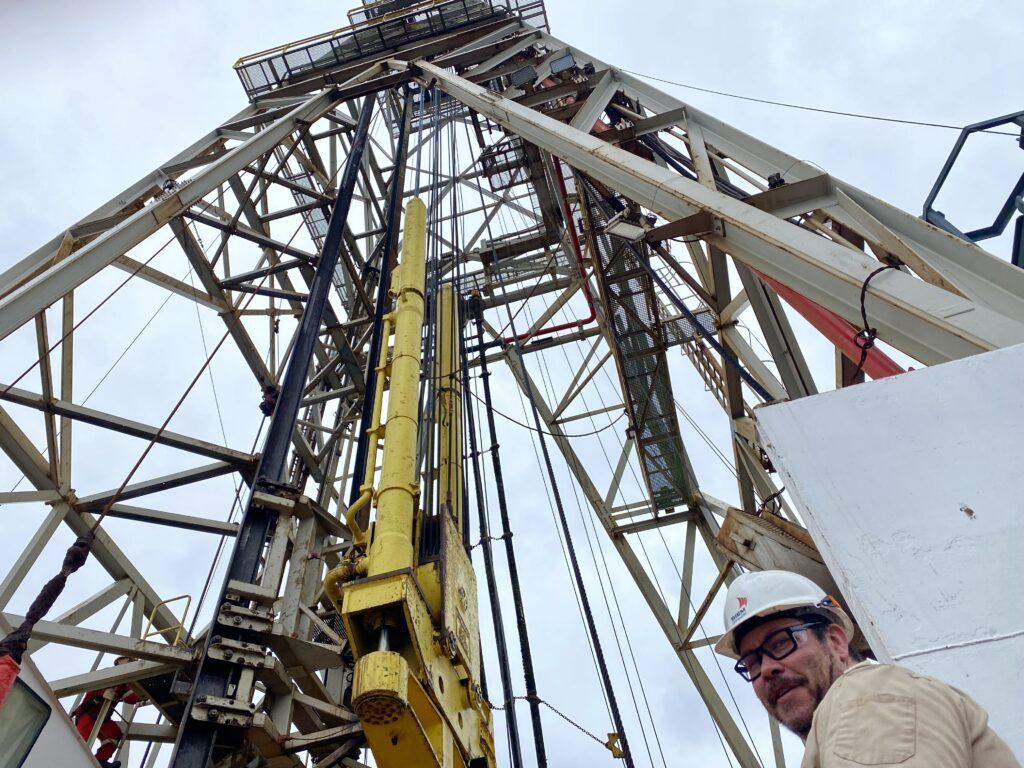 So, what is a Toolpusher?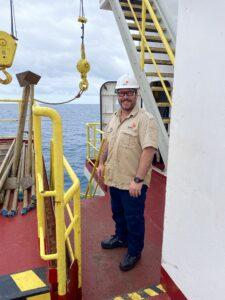 Hi, 
   My name is Glenn Barrett, I am a Petroleum Engineer and I am the day shift Toolpusher and Core Tech. on the J.R.  I am from Australia, and currently live in Texas, USA, where the science program is based, in College Station, although I do not work for IODP or the program, but for the J.R's owner, SIEM Offshore.
So, what is a Toolpusher and Core Tech, and what do I do?  Great question and well asked.
   A Toolpusher is a very old title for the Drilling Operations shift supervisor.  It is an old Oil & Gas industry term, and almost all of the drilling crew here on J.R are from an Oil & Gas background, as the mechanics of drilling our holes for the cores, are basically the same as drilling a hole looking for oil and gas.  So, I am in charge of the drill crew (5 people directly, and many more indirectly at my disposal depending on the specific operation at the time), and executing the science drilling plan, on the day shift.  The Core Tech title comes from the other half of my job.  I also assemble and maintain the specific equipment we have on J.R that drills and captures the cores, and recovers them back to the ship from sometimes 5km away, for IODP and scientists, from around the world.  I also maintain the physical inventory of parts needed to drill and core, and ensure we never run out and have to stop the operation.  Daily I work with member of other departments onboard, to help them support the drilling operation.
A typical day on J.R for me?  There is no typical day!
  My shift is officially 6:00a.m to 18:00p.m.  
I wake around 4a.m every other day, and hit the gym for 20-30mins of cardio; usually on the rower or spin bike.
After showering and dressing, I am in the galley for breakfast just after 5a.m, and then to my office by 5:30a.m
From 05:30a.m to 6:00a.m, I "hand over" with the Night Toolpusher/Core Tech who informs me of how the operation is going, along with what other maintenance and planning for upcoming ops has taken place during the night.  We discuss work coming up, and crew safety and welfare until 6:00a.m, when he finishes for the day and I head to the rig floor to check in with the Driller and crew, to see how the operation and work is progressing.
From here on, my day is spent answering emails about operations and parts supplies, ensuring the drilling operation is carried out in a manner that maximizes safe core recovery; safe for the crew and the ship.  Without a crew or ship, we couldn't get core, so recovering as much core as possible, safely, is the priority.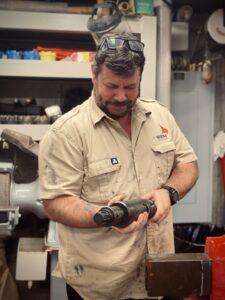 As the Core Tech, I also help the crew recover the core and hand it over to the science techs from IODP, and then the crew and I reload and dress the coring equipment for the next core, so that we are continuously prepared and ready for the next core.
After a core comes up, I will liaise with the OIM (Offshore Installations Manager, my direct boss), IODP Operations Rep. and Chief Scientists, and together make decisions and changes to our coring and drilling parameters, based on the core we are recovering, seeing or anticipate seeing.  In shallow water and soft sediment, we may get 4 cores an hour, but in deep water and hard rock, like basalt, we make get a core every 5 hours.  Every expedition, site and hole is unique and different and has its own challenges.
I also relieve the driller for breaks, by standing in and doing the drilling for him, whilst he takes a mental and physical break from his console.
At the end of my day, I write a report of what has happened that day, and what is planned to happen, and at 5:30p.m, I hand over to the Night Toolpusher and finish my shift.
After shift, I work out with some weights in the gym, before a shower, and then either a call home to my wife, or read a book, or socialize with off shift crew at a movie or games night onboard.
Bed time is between 9p.m and 9:30p.m for a nice 7hrs sleep, before I am up and doing it all again.
I hope that gives a brief and broad insight into me, my Job and a typical day out here on J.R while we are coring for Science.
Glenn Barrett
Toolpusher Afloat
SRV Joides Resolution
SIEM Offshore.