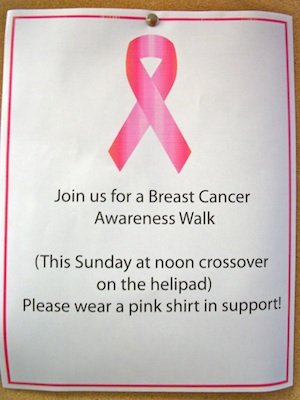 Station 2, Caribbean Plate!
Where are we now?
We are off the western coast of Costa Rica. Our coordinates are N 8o36 min, W 84o4 min. We can see an island off in the distance from the helipad at the back of the ship. We are in about 500 meters of water. (That's about a third of a mile).
Scientists at Work
We are still processing cores from Station 1. Each core is split in half. One half is wrapped and stored away. This called the archive half. The other half is used by the scientists to study the things that they are interested in. They can ask for as many samples from the core as they would like. One of my jobs in the Core Lab is to help with tagging the core where each scientist has requested a sample.
Some scientists want a sample every 10 centimeters and some scientists may want just one sample per core, some want a 10 cubic centimeter (cc) sample, and some want a 5 cc sample. The drill will be going down again tonight…
Life on Board
We are currently on Station 2, and will be here for about two weeks. It is raining pretty hard here off the coast of Costa Rica, but not like the hurricane on the East Coast of the U.S.
We held a Breast Cancer Awareness walk on the helipad yesterday. Good weather! Good showing! Stay strong!
(photos courtesy of John Back)
The kitchen staff onboard does an incredible job of feeding over 100 people every day on 6 different work shifts! The shifts are 6 am to 6 pm (that's mine), 6 pm to 6 am (that's my roommate's shift), noon to midnight, midnight to noon, and 3 pm to 3 am, and 3 pm to 3 am! So, they have to have breakfast, lunch, and dinner ready several times each day, depending on when people wake up! They also carve really bizarre faces on fruits and coconuts…
Wow!