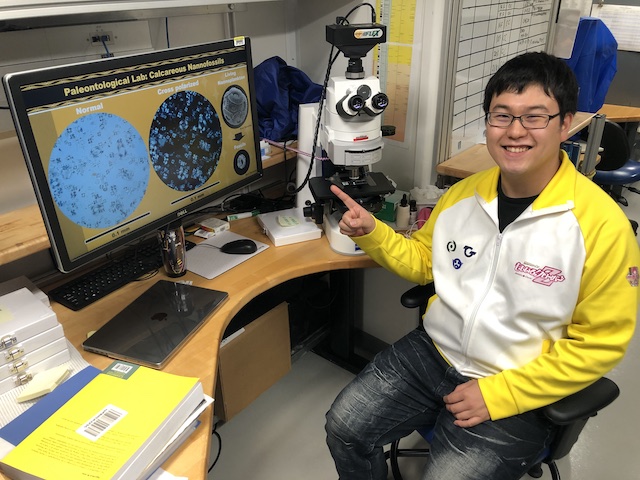 Thank you to the Ship crew (from a scientist on board)
Hello everyone! My name is Daisuke Kuwano and I'm PhD Student at Chiba University in Japan. I joined the science party of IODP Expedition 393 as the micropaleontologist (nannofossils). I usually study Quaternary calcareous nannofossil, biostratigraphy, and paleoceanography!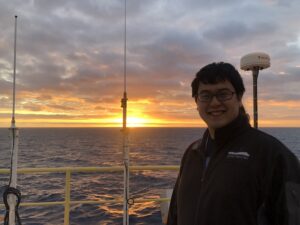 The JOIDES Resolution not only has scientists, but also has many technicians and crew members. Thanks to their support, we are able to conduct our research and live comfortably on board the JR. I would like to thank them and write about their work here.
The technicians do all the work on board, as well as, supporting the onboard scientists. Once the core comes on deck, they carry them, cut them, and tag them, etc. Technicians have their own specialties: some take pictures, some make the thin sections, some curate the samples, and some manage the instruments. They help our scientists with any problems and provide the best environment that allows us to focus on our own work. After the core on deck, the technicians take the sediment samples from the core catcher, so micropaleontologists just pick up our bowls and go to the catwalk! Owing to the technicians, we are able to work immediately and quickly provide the ages of sediment.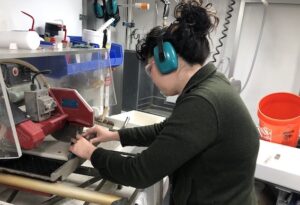 The crew members also support the life on board. They provide meals for all of us, do our laundry, and even clean our rooms. For example, on the JR, we put our laundry in a mesh bag and leave it in front of our cabin door, and the crew will wash it for us, and the laundered clothes will come back to us in just a few hours! They also prepare as many as four meals a day for a crew of over 100 people.
In addition, they made my favorite for my birthday, apple pie. Also, outreach officer, Tessa, and the scientists held a birthday party for me!! I was very impressed, and I felt happy to have the support of so many people.
IODP Expeditions are supported by the efforts of many people, not only scientists. Of course, there are many people who have supported our expedition before and after, many of whom have not been mentioned here. I would like to do my best for everyone.
Read more about how the SIEM staff have been great problem solvers for Expedition 393 when drilling operations have gone less than ideal.
Lastly, I would like to thank the physician Gene Molina helped me many times when I got seasick.
Thank you for always supporting us!!