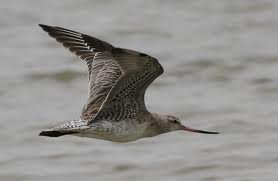 Two flightless Kiwi, Chris Moy from Otago University and I, will be following the bar-tailed godwit (kuaka), one of New Zealand's native birds to Alaska at the end of May.   While we must fly in a plane for over 12 hours, the godwit that is best known for being able to fly 12,000 kilometres in eight days will complete the journey unaided.
To prepare for the flight the godwit has doubled it's size from 300 to 600 grams, fluffed up its feathers and actively called to it's mates to join him on his trip.  It's beautifully adapted body does all the flying from NZ to Alaska without stopping.
I've been preparing for my trip to Alaska on Expedition 341 by completing rigorous medical exams, preparing travel arrangements, downloading the ereader with books for the long flight and telling my mates all about it.  What a contrast to the godwit!
Read more about the godwit here:
http://www.sciencelearn.org.nz/Contexts/Flight/NZ-Research/Flight-of-the-godwit