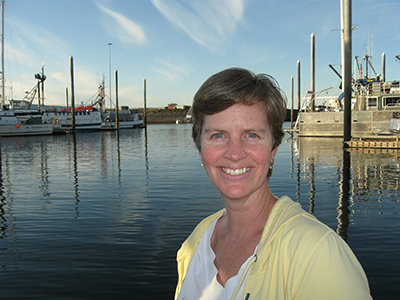 Who am I and why am I here?
Let me introduce myself. My name is Jennifer Magnusson and I will be your onboard education officer for Expedition 336: Mid-Atlantic Ridge Microbiology. (Sounds kind of like a job on "The Love Boat," doesn't it?) I am excited to share my experiences during this expedition, and I hope that you'll follow along from your classroom, lab, or armchair. Here's the story of how I got here:
I am a marine biologist. I studied field ecology in Baja California with my undergraduate university, Loyola Marymount in Los Angeles, where I grew up. Then, I moved to Alaska and studied deep-sea and intertidal ecology at the University of Alaska in Fairbanks. Coincidentally, the cruise I participated in for my thesis research was also in the mid-Atlantic ocean (Lucky Strike Exploration with ROV JASON onboard the R/V Knorr, 1996). I discovered that I enjoy field work a lot more than lab work.
I am a graphic designer. I worked for a few years at an advertising agency in LA and learned a lot about presentations and graphics and web development. I am now the Webmaster for two different marine education websites, MBARI's EARTH teacher program, and NAME: Northwest Aquatic and Marine Educators. I love learning about and using technology to make the world a brighter, more connected place!
I am a teacher. I have taught everything from Montessori preschool to college oceanography onboard a schooner in the Caribbean. I finally settled in the beautiful Pacific Northwest, where I taught elementary school for 5 years in Bellingham, Washington. I am always amazed at the enthusiasm students bring to the classroom, and I am always looking for new and different ways to inspire them. I now live in Canada with my husband and son, David, who just turned four.
I am thrilled to be back in the field, ready to share some amazing science and technology with classrooms, labs, clubs and other audiences across the country!