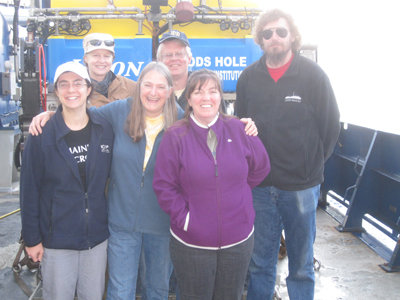 The Team: Sharon, Lisa, Jackie, Jim, Randi, Ken
First: a question: If you have followed the Atlantis this summer, could you describe how it has influenced your interest in science or oceanography? Tell me about it, I want to know what you think!
I can't wait to get home -not because I wish the expedition to be over, but because I am so excited to start our own science exploration with our ROV. I am so full of ideas for my STEM club. Perhaps we will start this summer before school starts. If you want to join us, send me an email. Soon I will be able to share these ideas with other teachers too.
Several blog comments asked me about those little green slimy things I blogged about a while ago. One scientist from the web wrote and said she thought they were limpets. So, here is a picture of one. I'll also include the picture I posted earlier. What do you think?
I got to do something very very special. Few people in the whole world get this opportunity. Some of my students asked if I would get to do this. I said no But, I did! I am so excited to tell my students this fall, if they ask me the first day of school!
I also did something else that was awesome. I launched a XBT which is a sensor shot off the stern with a very thin wire tether which spools out of the cylinder as it falls to the ocean floor. As if falls it records the temperature and conductivity. (What do you suppose the use the conductivity test for?)
Don't go away for long. This expedition is ending but another one will always be starting. Check back often! Your are part of our family now!