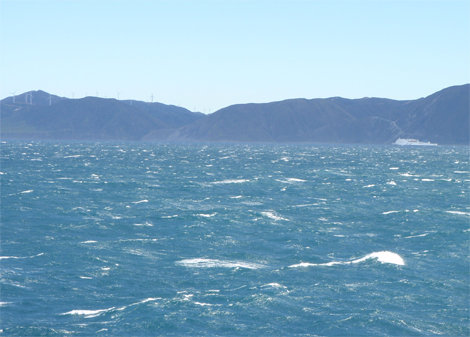 Hello from the quiet JR. Yesterday was very exciting for us. We saw land for the first time in 8 days! First light rose above New Zealand and by noon we were docked in Wellington. The transit through Cook Straight was WINDY.
You can tell from the white caps in the photo. And the New Zealanders seem to have figured this out long ago, judging by the wind farm arrayed west of Wellington and north of us in this photo. The ship in the distance is a very large Ferry that runs between Wellington and the South Island.
The JR is quiet because we are all officially on "shore leave". That worked well for the "day watch" who could rise, leave, and return late at night for bed. As a "night watch" person, it allowed for a pleasant stroll before bedtime. And it allows me to relax during my waking hours and try to organize my copious photos before core analysis becomes very serious in the next 36 hours or so. I think that we are all ready for the chaos and thrill of finally starting the work that we set out to do.
If you have been reading my blogs, can you tell me if this photo shows sea or swell?