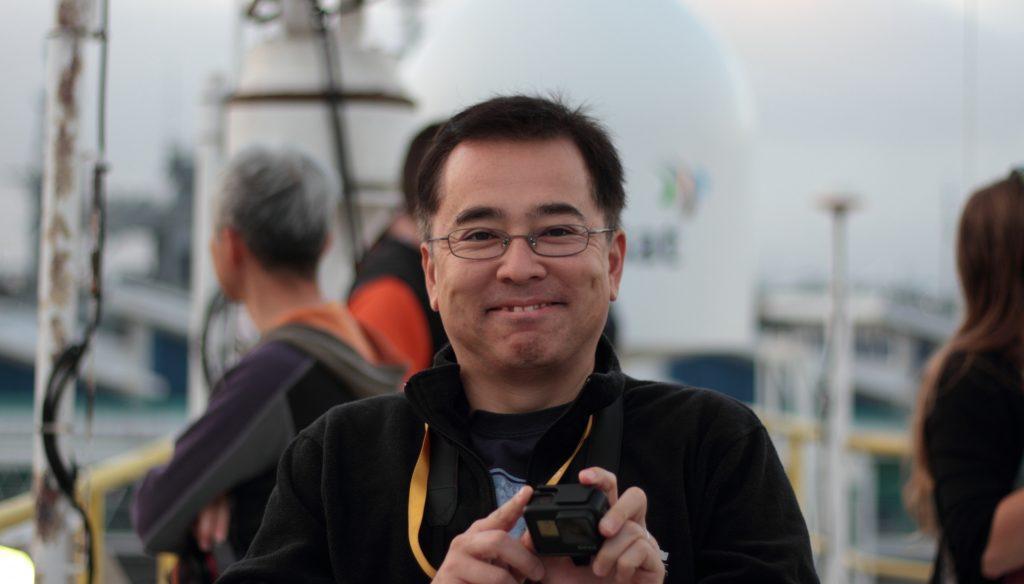 Yuki Morono: Coming back to the JR after 10 years
This Q&A is part of the "Career Spotlight" series of Expedition 385
Where are you from and what is your expertise?
I'm from Japan and my Institute is the Japan Agency for Marine-Earth Science and Technology (JAMSTEC). I'm one of the microbiologist onboard and my main research target are sub-seafloor microbes.
Not so many stuff is known about them — the deep biosphere remains as one of the unexplored habitat of microbes. In the soil, in the ocean or rivers, or even the human gut, the microbial diversity is kind of well-known, but the sub-seafloor biosphere still remains somewhat unexplored.
Why is your research important, how does it change your field?
By knowing something beyond our knowledge, we may expect to overwrite the textbook, the basic knowledge about life.
In this expedition, in particular, if we can find a life signature at the very hot deep biosphere, we may find microbes living at temperature beyond the highest record of the currently known life — 122°C — so then we can override the textbook.
What is your favorite thing about being a scientist?
It's very simple: I can see the moment when something that has been unknown becomes known.
Why did you decide to come on EXP385?
This is my fifth IODP expedition and my second time on the JR. The previous expeditions were more focused on looking at how microbes can survive in nutrient-poor conditions.
So then, for EXP385, my interest is to explore how microbes can feed on the organic matter here and how this matter might give them what's necessary to break the record of the currently known temperature limit. I'm kind of a well-known person who can do cell counting very well, so I can be sure whether we have crossed the limit of the deep biosphere or not.
I'm one of the persons who can say, "Oh, we are crossing the limit."
What's the best and the toughest part of being on the JR?
The best part is that everyone is friendly. All the drillers and technicians are very much friendly to everyone. I like that mood very much.
The worst part is being away from internet, but I can survive without it.
What advice would you give to a teenager that is interested in a scientific career?
I would tell them to have a broad interest in everything. Then, you can focus on specific field of science.
What do you do to relax when you're not on shift on the JR?
Sleep! Haha or doing exercise — but the that is not for relaxing, but for keeping my body warm before going to bed; it is very nice for having a complete sleep.
What essential things did you bring on board?
My camera is good to have a record of everything, or the to catch a good moment so that I can use it later for a presentation to the general public.
I also brought instant noodles, which are small enough to carry with me. And yeah, sometimes, believe me, it's good for the stress at the end of the day. I have six variations of these.
What hobbies do you have back home?
I like to go camping with my kids. And I like gardening and growing vegetables in my little garden.
Is there anything else you would like to tell me?
Yes! After getting on board for the second time in the JR, sometimes I find some reagent or stuff I saw 10 years ago, and it's still in here. One of the boxes I found in the geochemistry fridge was mine from that time. It was something surprising and interesting.