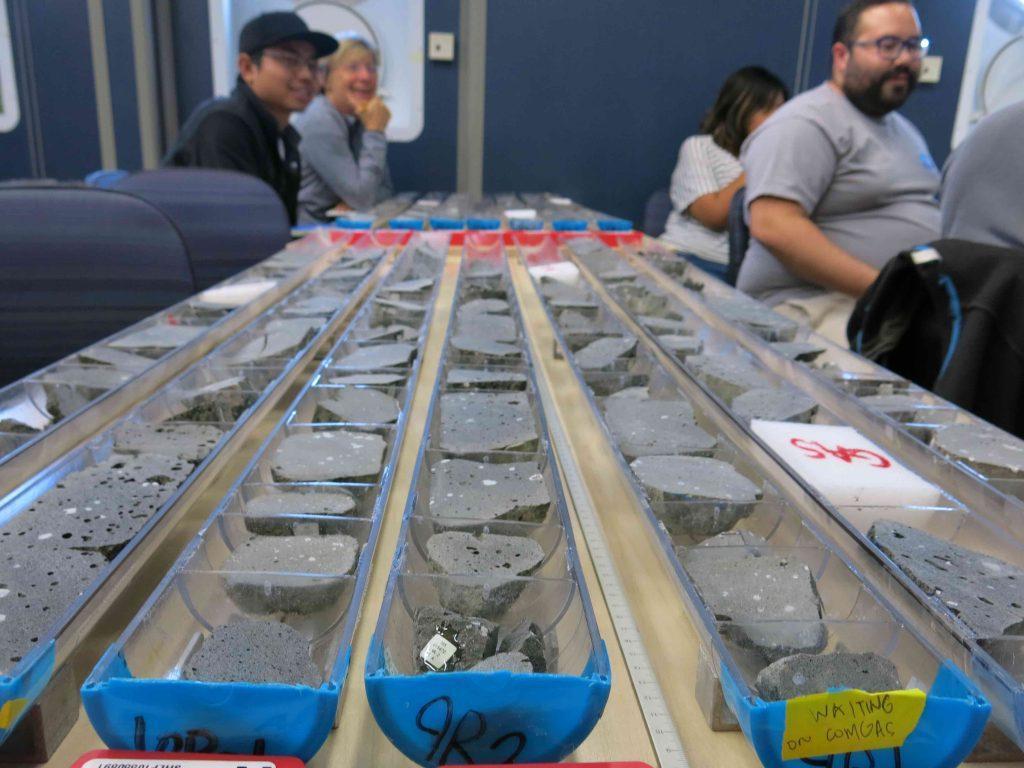 We are back at Site 1545 and drill hole C, to recover fresh microbiology samples. New cores come up every 35 to 45 minutes, and the highly experienced microbiology teams dispatch them as they come up. Since no core must be left undescribed, the sedimentologists have graciously agreed to describe the entire sediment sequence again, claiming — in Ivano's words — that it is nice to see old friends again. The geochemists are not displeased to have a second shot at this site, to iron out some wobbles from the "training phase" of this cruise. While microbiology and geochemistry crew members dash in and out to keep up with the core flow, the next Ringvent-themed event begins: "The Two Towers" Rock show.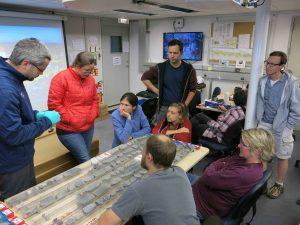 On display are now Barad-dûr and Isengard, pardon, 1547D and 1548A. The massive 1547D core — our mysterious Barad-dûr that was never fully penetrated to the bottom – undergoes visible mineralogical changes throughout, many of them so intricate that a full accounting of them will be completed only on shore.
Non-mineralogists look on intently, as the event unfolds as a dialog between savants Tobias and Joann, with interjections and audience questions.
Here Joann is responding to a question about columnar basalts and their fracture properties, coming from microbiologist Virginia Edgcomb. Only on the JR!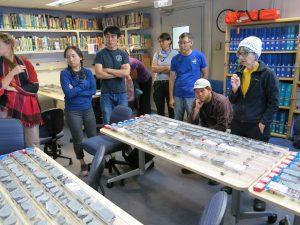 It is almost as if we are discussing living creatures; the immutable rocks reveal their peculiar history and disturbances… this blogger will never look at roadside rocks again without inspecting them for brecciated alteration fronts and sediment infilling, as beautifully displayed in this specimen.
… and on the drill floor, the drumbeat goes on… this will be the fastest 300-meter hole ever drilled.
This blog post first appeared on Oct. 30 on my daily blog of EXP385. Make sure to go to expedition385.wordpress.com to read the latest updates of this expedition!