Well, yes and no.  Even when the ship is stopped, there's still a flurry of activity.  Today, the ship was stopped so that the engineers could do another test of our newly upgraded DPS (dynamic positioning system).  This system is critical during drilling because it keeps the JR over the drill hole as they drill the core samples.  You can imagine how problematic it would be if they weren't over the hole.  So, once we were stopped, the thrusters (propellers along the bottom of the ship) were deployed.  These propellers can rotate 360 degrees in any direction so using guidance from the location beacon, they can keep the JR on point even with any ocean currents that might try to push her off her mark.
The Captain took advantage of the stoppage to perform some special drills.  They conducted a man overboard drill where they throw Junior (the floating mannequin in red coveralls) over the side and the z-boat (inflatable) gets lowered into the water.  Now, we were stopped with DPS deployed and the Z-boat was already over the side waiting for the drill.  Still it took minutes and Junior was already taken quite a ways by the current.  It brought home the reality that in a true emergency situation (i.e. the ship is in motion, the Z-boat is still on deck, etc.) if someone went overboard…well, let's just say your chances of surviving a man overboard situation are pretty slim.  Spotting you in that water would be pretty difficult as the ship has to cut engines, lower the boat, and speed over to you as you are swiftly being carried easily miles away from the ship.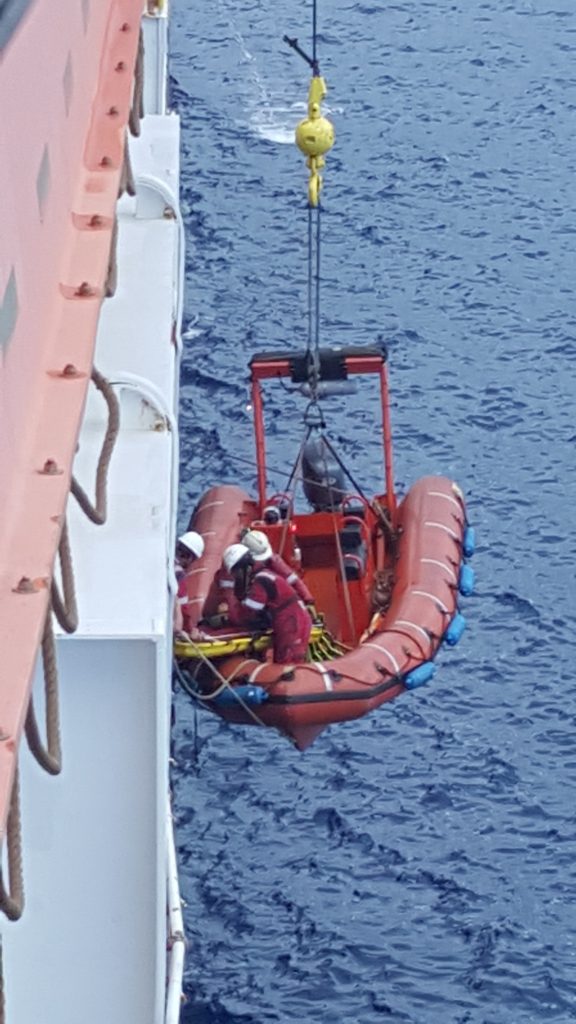 Another safety check was done with all four of the lifeboats the JR carries.  They were each lowered, engine checked, and then brought back aboard to check the lifeboat system.  Basically all the booms and lowering devices as well as the lifeboat engines.  In truth, no power is required to launch the boats, but for the
drill they use the power to bring them down and up.  Don't want to leave them in the water as we sail safely away on the JR, right?
It wasn't all work, work, work.  On Sundays, weather permitting (and it was cooperating, though really hot and humid with no head wind from being underway), the galley staff prepare a BBQ on the deck below the bridge.  We call it the picnic deck because it has three nice picnic tables.  The staff bring out a full spread of food, soda, and a grill to cook hamburgers, hot dogs, chicken and even pork bellies.  It was awesome as is all the food aboard.
Really, I think they're spoiling us.  The people, the view, the food, the science… I don't know how I'm going to go back to all the mundane duties at home.
Fair winds and following seas!  Guest blogger, Stephanie Milam-Edwards signing off!