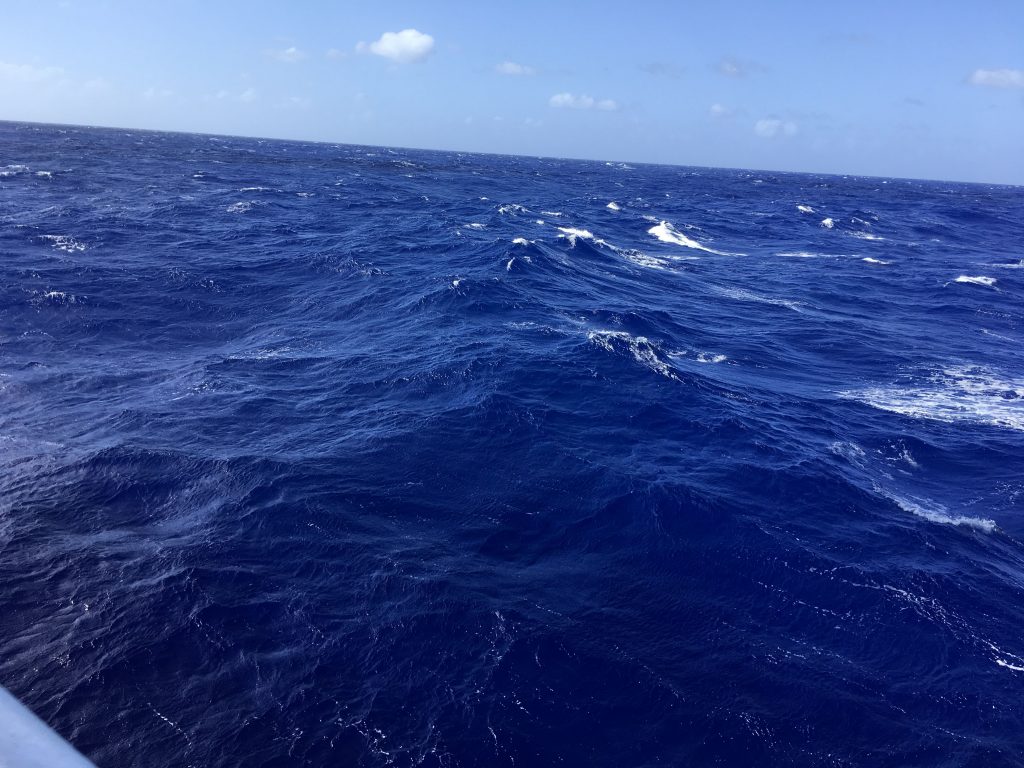 Arbeit bei Wellengang/Drilling Goes On In Rough Waves
Die Joides Resolution hat ihre zweite Bohrstelle genau über dem Gipfel des Blue Moon Seamount erreicht. Bei relativ starkem Wind (Bf 6) herrscht rauhe See trotz blauem Himmel. Der Nordost-Passat hat sich mit einem Tiefdruckgebiet nördlich des Äquators verbündet und schickt uns beständig stürmischen Wind aus Osten.
Das Schiff wird von Stabilisatoren in Position gehalten und es wird weiter gebohrt. Diesmal nur noch durch 3600 m Wasser hindurch, da wir uns über dem Gipfel des Blue Moon-Seamount befinden. Gestern Abend wurde mit Hilfe einer Unterwasserkamera eine Prospektion des Meeresbodens vorgenommen. Beim Herabgleiten der Kamera entlang des Bohrgestänges, was ca. 2 Stunden in Anspruch genommen hat, konnte man immer wieder vorbeischwimmende Fische und andere Lebewesen kurzzeitig aufschimmern sehen. Unten am Meeresgrund ist eine deutlich verstärkte Aktivität zu erkennen gewesen. Fische, Krebstiere, und andere Lebewesen waren zu erkennen und die gesuchte metallene Marke einer früheren Bohrstelle. Hier im Gipfel des Schlammvulkans scheinen die Bohrkerne noch interessanter zu sein. Bunte tonige Schichten werden auf den Tischen ausgelegt mit Steinen unterschiedlicher Größe darin, das Material wirkt ziemlich unsortiert. Bei den meisten Steinen handelt es sich um Variationen von Peridotit, dem Gestein des Erdmantels. Die Variationen desselben, vor allem Lherzolith und Harzburgit, aber auch Dunit, sind  beim Aufstieg aus dem Erdmantel durch die Kruste der Philippinischen Platte in den Schlammvulkan gelangt und dabei mehr oder weniger serpentinisiert worden. Das Mineral Serpentinit liegt in Form grüner Kristalle oder auch fein verteilt als grünlich-blauer Schlamm vor.

Auch die Co-Chief-Scientists und der Staff-Scientist scheinen zufrieden.
The JOIDES Resolution has reached the waters above the top of Blue Moon Seamount. Though the wind from the North-East brings rough waves rocking the ship, drilling continues. This time real green-blue Serpentinite-mud appears. In there pieces of altered Peridotite from Earth's Mantle are embedded, Lherzolith and Harzburgit being among them. Co-Chief- Scientists Patty Fryer and Geoff Wheat and Staff Scientist Trevor Williams look quite content on the core, explaining the results to the other scientists and the Education&Outreach Officers standing close by.