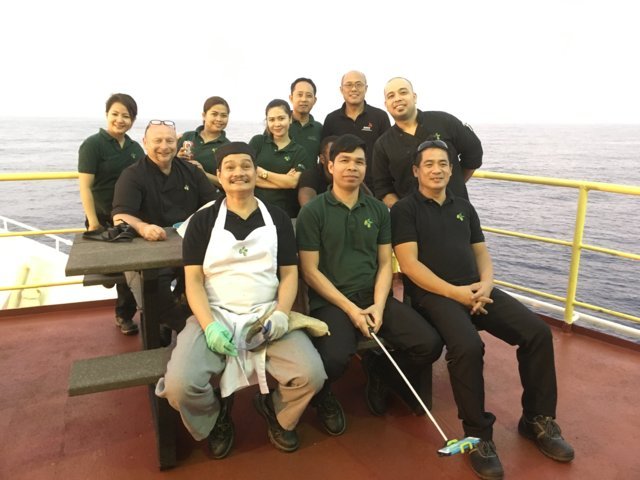 Behind the Science – "Feeding the Science"
In every video conference there are always some questions regarding the food and the nutrition on the ship.
The galley is the beating heart of the JOIDES Resolution. It's the place where people gather together and you can meet persons that are very difficult to meet during your working shift. Beside that, the people working in the kitchen are among the kindest persons I ever met.
Here it is the interview that our Camp Boss, Tim Proctor from Scotland, released to me.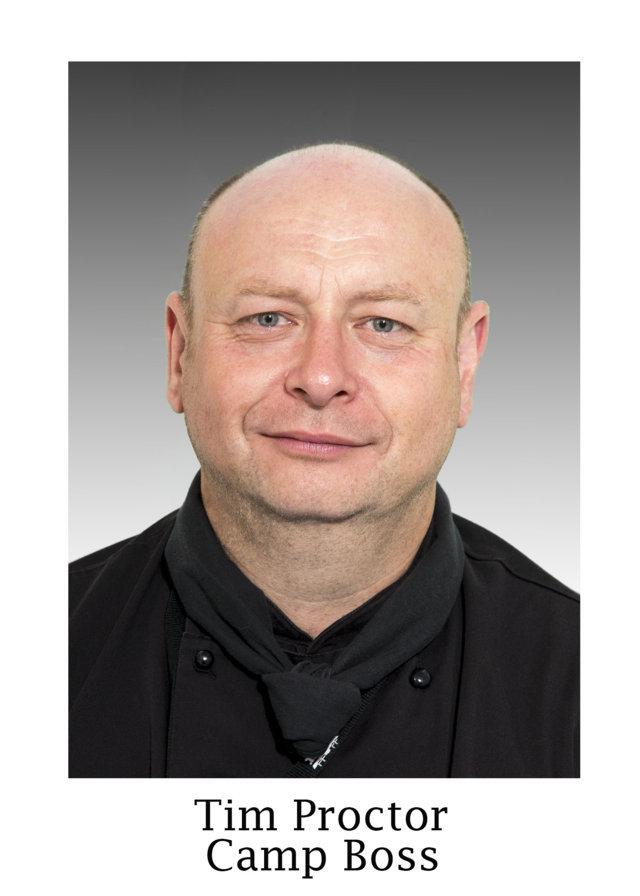 Q: How many expedition on the JR have you taken part in?
T: This is my third expedition on the JOIDES Resolution
Q: What a camp boss does on the JR? Who else is helping you in your job?
T: My job is varied, but most consists of : Menu planning & Costing, Ordering, Stock Control, Budget control, Training in HSE and Hygiene, some butchery and food preparation. Helping me on a daily basis I have a team of 14 Filipino crew (male and female) I have an assistant Campboss who supervises the galley , a Leading Steward who supervises the accommodation crew and also assists with stock control and training. Onshore (Aberdeen, Scotland) we have a dedicated team who I am in contact with daily and who help me with any issues that arise.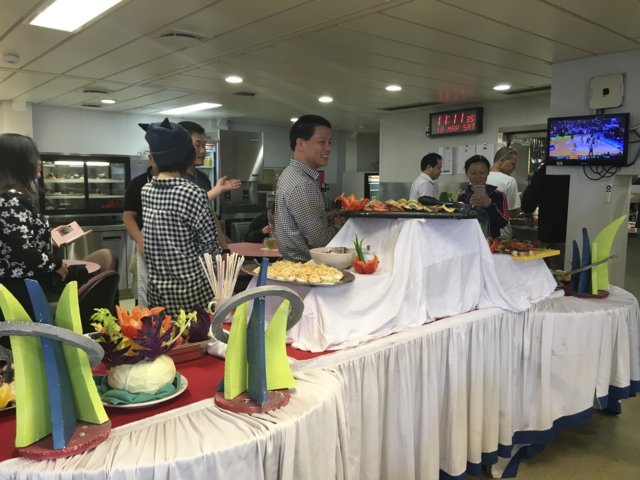 Q: What is the main difference in your job that depends on being on a ship?
T: I have worked for 27 years in the offshore industry. In that time, when provisions were required, I would place a weekly order and receive it weekly. The JOIDES Resolution is a completely different. Myself and my relief (Paul Trainer) order for each other voyage. This requires ordering weeks, sometimes months in advance, and this makes it very difficult (a crystal ball would come in handy)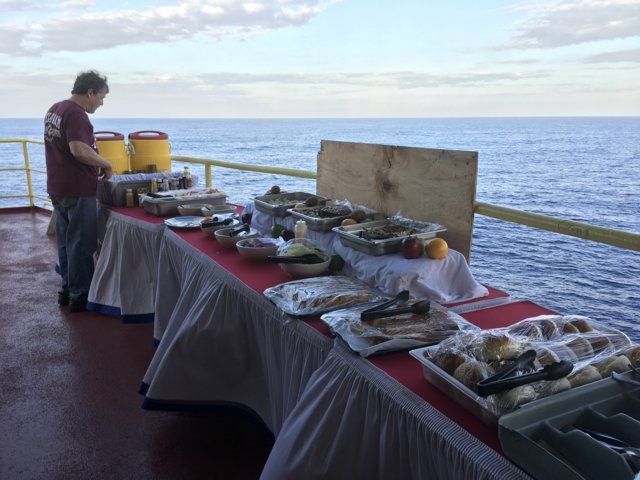 (A typical Sunday BBQ on deck)
Q: How do we store and conserve the food?
T: Whit the fresh fruit & vegetables, we try to buy some ripe (ready to use) produce and some "under ripe" produce in order to prolong the lifespan and usability. These items are stored under controlled refrigeration between 1 and 5 degrees Celsius. Meats and fish are supplied frozen and can be stored in our industrial freezers (at minus 18 degrees C) for 12 months. Dry produce is supplied with the longest possible lifespan (long expiry date) As for milk and yogurt, this is all the "long life" variety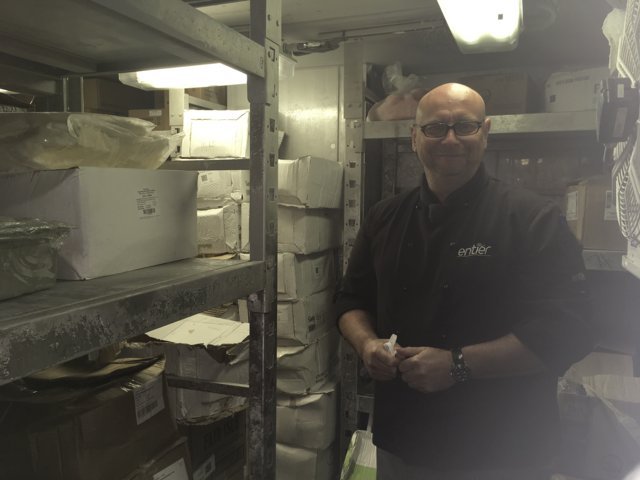 (Tim in the fridge … too cold for the camera)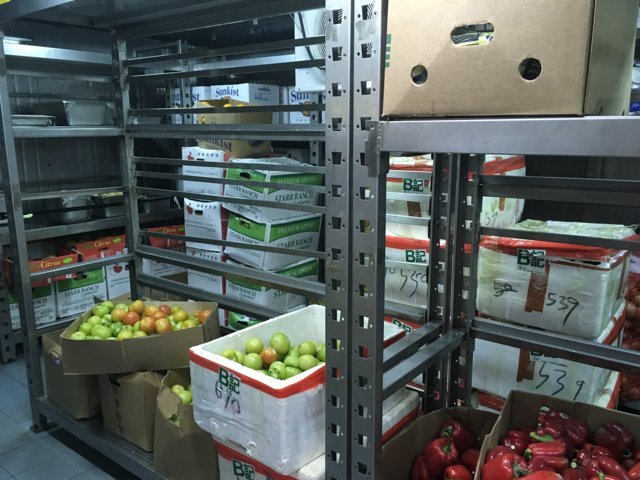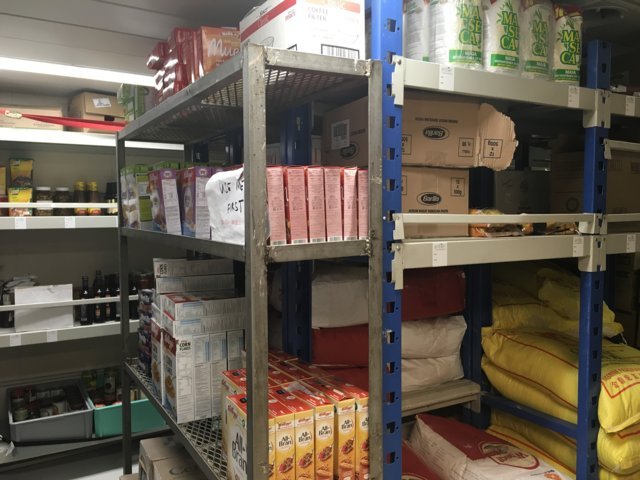 Q: How do you prepare the menu of the week?
T: At the start of the voyage, we receive a list of people with allergens, intolerances and dietary needs. We also take into consideration cultural and religious needs. We try to always have a "healthy" or "non meat" choice on the menu and also have a varied salad bar. Two cooked vegetables a two potato dishes are available every meal.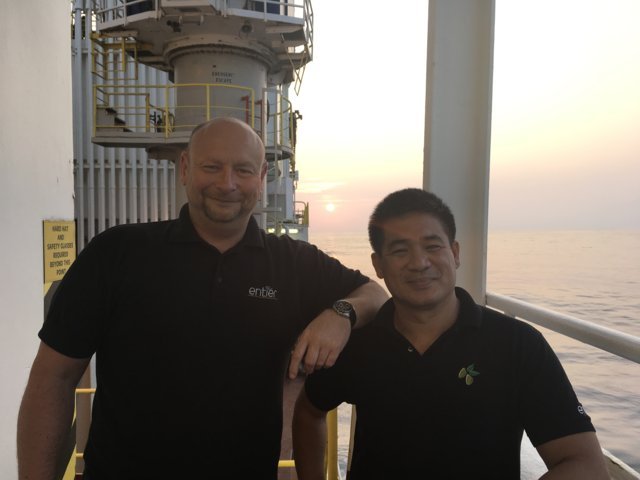 (Tim and Jhun "Loreto" Olegario the Lead Steward)
Q: We are 123 people on the ship. Please give me "some numbers" about food.
T: This expedition we have approximately 2.200 liters of milk, 1800 yogurt cups, 11500 eggs, 850 kg of flour, 2000 liters of fruit juice, 7.5 tons of fresh fruit and vegetables and approximately 2 tons of frozen vegetables and approximately 5 tons of meat and fish.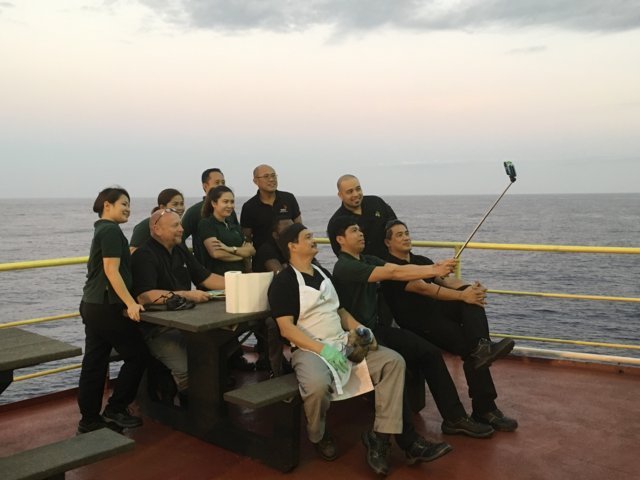 Thank you Tim and thank to all your crew for doing your job seriously but in a playful way. You are very important not just for the nutrition but also for the moral of all the people in the ship.