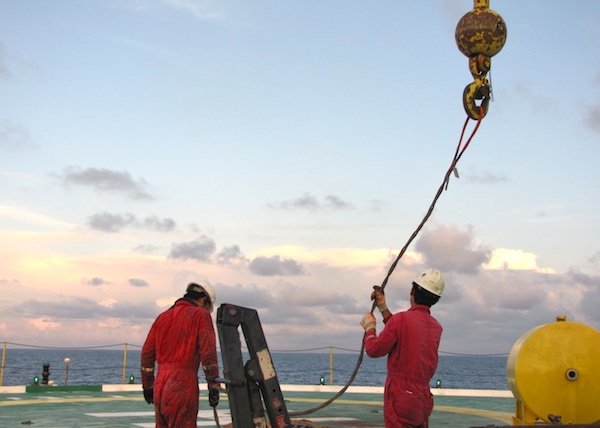 Cores Galore and Calm Seas
0
0
0
We fly really big kites here on the JR!
Where are we now?
Off the western coast of Costa Rica, in the Pacific Ocean, Site U1414. Our newest coordinates: 8°30.2' North, 84°13.5' West. Back to much deeper water on the Cocos Plate.  Water depth is 2640 meters (over a mile and a half!).  Rain this morning! (It let up this afternoon)
Scientists at Work
Cores were coming in fast and furious all day, about once per hour for much of the day.  We are now at about 300 meters below sea floor (mbsf), with very good recovery.

Sedimentologists Delphine Charpentier and Susanne Straub discuss a core
The first cores from this new site are like what we have been seeing, greenish gray, silty clay with rock bits and several light gray ash layers from the Costa Rican volcanic arc along the land bridge between South America and North America. 
Lot's of nannofossils and radiolarians, and some diatoms and forams.  These fossils put the top cores in the late Pleistocene age.
Sometimes they find fossil sponge spicules in the cores.  Sponge spicules are basically the fossilized spines from sea sponges that lived in the time that the sediment was forming. I asked micropaleontologist Maria Sandoval Gutierrez what the sponge spicules look like, so she gave me a photo from the microscope.
Around 9:00 they started pulling up lighter colored cores where the entire core is a light gray.  There have been so many cores today that it will be at least tomorrow before these are split and examined.
Life on Board
Now that we are in deep water again, sea creatures have begun to hang around the ship once more.  Last night, Roy Davis, our lab manager, was out on the deck outside my office getting some fresh air.  He tapped on my window and waved at me to come outside.
The water was glassy smooth, and there were dolphins surfacing about 20 yards from the ship. Lot's of squid were around, and another medium-sized fish that I didn't recognize.  Tonight, I went outside again, and there were thousands of squid in the water!
Last time we were in deep water, we were seeing mahi-mahi around the ship, as well. They are a bright yellow and green color and can be up to six feet in length.  Their fins are bright blue, and they have some green on their head, as well.  And, they are very efficient hunters. Hopefully, we will see them again at this site.
For more photos, see our Facebook page!
From the Cocos!