Election results from the Expedition 397 "What's your favorite ocean?" survey
One day at lunch a handful of us were discussing the world's oceans, as often happens, and the conversation turned to superlatives.
"What's your favorite ocean?" someone asked. And then speculation began about what other people's favorites might be and whether, sequestered out here in a finite space for a fixed duration of time, anyone would dare say their favorite was any ocean other than this one we're in. The stakes couldn't be … lower. This is an entirely trivial survey and the results should in no way impact any reader's perception of the science party and technicians' commitment to the work they're doing here.
Not that anyone would worry about that because, unsurprisingly, our winner is: Atlantic Ocean. But it wasn't a runaway victory. With 12 votes, the Atlantic finished three votes ahead of the runner-up. Then again, one could say the Atlantic with 39% of votes earned a decisive finish, 10 percentage points ahead of its next closest rival, (predictably) the Pacific, which had 29%. With no ocean getting a majority, there could, perhaps, be a runoff. But that seems unnecessary.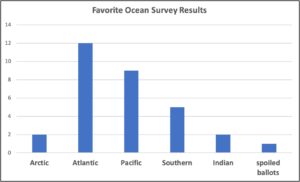 A word about our voting process. There were two lines on the ballot. The first said, "Which is your favorite ocean?" Below that was the following prompt, "If you did not write Arctic, Atlantic, Indian, Pacific or Southern, please choose one of these as a second/broader choice." One person did not make an acceptable second choice (that is, the first line didn't contain the name of one of the major modern oceans, and neither did the second). That vote is the one "spoiled ballot," though that voter's choices are reflected in the list of additional seas named.
Eligible voters were members of the science party and technical staff, for a total of 53 (including one onshore education and outreach officer). Ballots were available for nearly two weeks, with most people taking advantage of early voting. There were a few that trickled in as the polls were about to close last night. And by that I mean, just before I took the ballot box out of the conference room where it's been and added the last two ballots to the pile.
Points for creativity for some of the write-in candidates:
Caribbean
English Channel
Gulf of Mexico
Iapetus
Mediterranean
North Atlantic
Panthalassa
South Atlantic
South Pacific
Had one last-minute voter not been willing to reveal his vote, your humble election worker would have needed to Google two of these responses. For others who may also be less familiar with the Earth's ocean history, Iapetus is the name of an ocean that was in the southern hemisphere more than 500 million years ago and Panthalassa is what the world's ocean was called during the time when all the world's continents were the one, Pangea.
As is often the case in U.S. elections, voter turnout was a bit disappointing with only 58% of eligible voters casting ballots (though I can confirm the two-member education and outreach precinct had 100% voter turnout!). The anonymous voting left no way to know whether the non-participants were technicians or science party members. Do they disproportionately represent one lab group or another? Were they mostly disgruntled members of the often neglected 6pm to 6am shift? We'll never know. But rest assured, there was no tampering with the process and all of the un-voted ballots are accounted for.
Regardless of differing favorites, the enthusiasm within the science party about the details of the past they are uncovering suggests they'll all be heaping attention on the North Atlantic for a long time after the ship docks and they return to their home labs. And more meaningful voting opportunities.