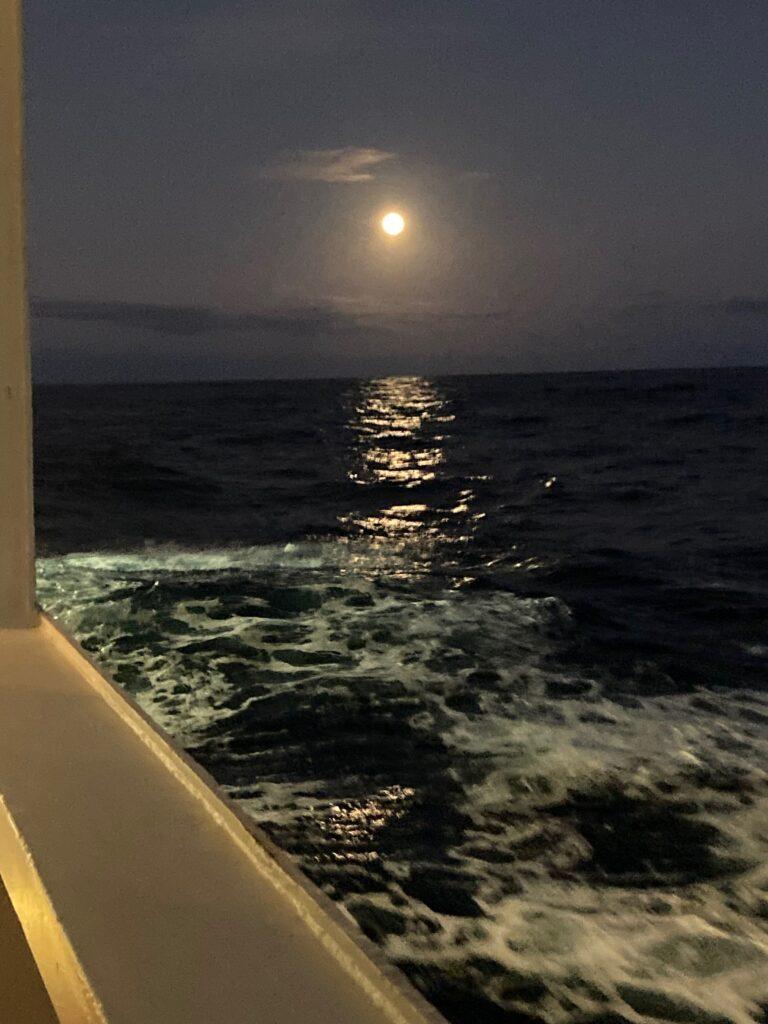 Getting ready, in rough seas (new instruments, teaser cores, and more…)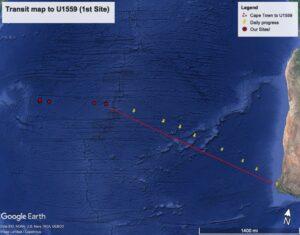 We are now on site at U1559B,  bringing up cores, (!) which makes the previous eight days of transit all worth it.
It was kind of a rough ride getting here – the seas were "unsettled" (the Captain's term, in his weather forecast).  This translated in practice as: heave (bow to stern rocking) and roll (port to starboard rocking), interacting, pretty much from the moment we hit deep water off the coast of South Africa.  For me at least, it involved a lot of hanging on to things (there are, fortunately handholds and rails along every corridor and stairway on the JR), and getting used to reading and working on my computer while moving (me + the table/counter my computer sat on, each wobbling with its own slightly different amplitude, if not frequency).  Ths ship's doctor was ready with a generous supply of seasickness medication for those in need, and that (mostly) helped the science team, who are obviously the least accustomed to this kind of motion at sea.
The long transit afforded the opportunity to get ready for the drilling and coring to come, and to try and align our planned activities and measurements with what had been done during our partner Expedition 390.  My work in this regard has orbited around two different Geochemistry instruments: an ICP-AES (Inductively Coupled Plasma Atomic Emission Spectrometer), and a pXRF (portable X Ray Fluorescence Spectrometer).  Both measure elemental abundances – the ICP in both solids and waters, and the pXRF in solids.  And both were installed on the JR since my last Expedition, so I have some getting up to speed to do on them.  There is also preparing for doing squeezing and geochemical sampling of porefluids in recovered sediments, which is complicated because many of the shipboard team want aliquots of what could be very limited available fluids.  My counterparts on the 0000-1200 shift are leading our efforts here, for which I am most grateful!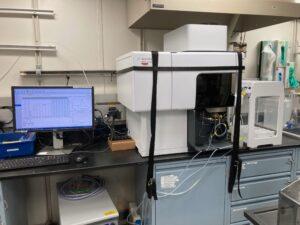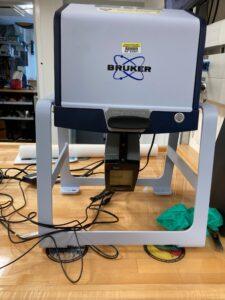 We also had a couple "teaser cores" that the Petrology and Physical Properties teams could get their feet wet on.  These were recovered during the technical Expeditions last year, but were not cut or described.  So, while we transited these were cut open, imaged, described, and sampled for shipboard geochemical and geophysical analysis.
Looking forward to collecting great igneous rock cores here at U1559 (promising so far!), and getting to help figure out what kinds of basalts they are and what their history of alteration and change may have been.  The geochemistry is a central piece of this (and why that is I'll try and get into in a blog post here in the near future!).