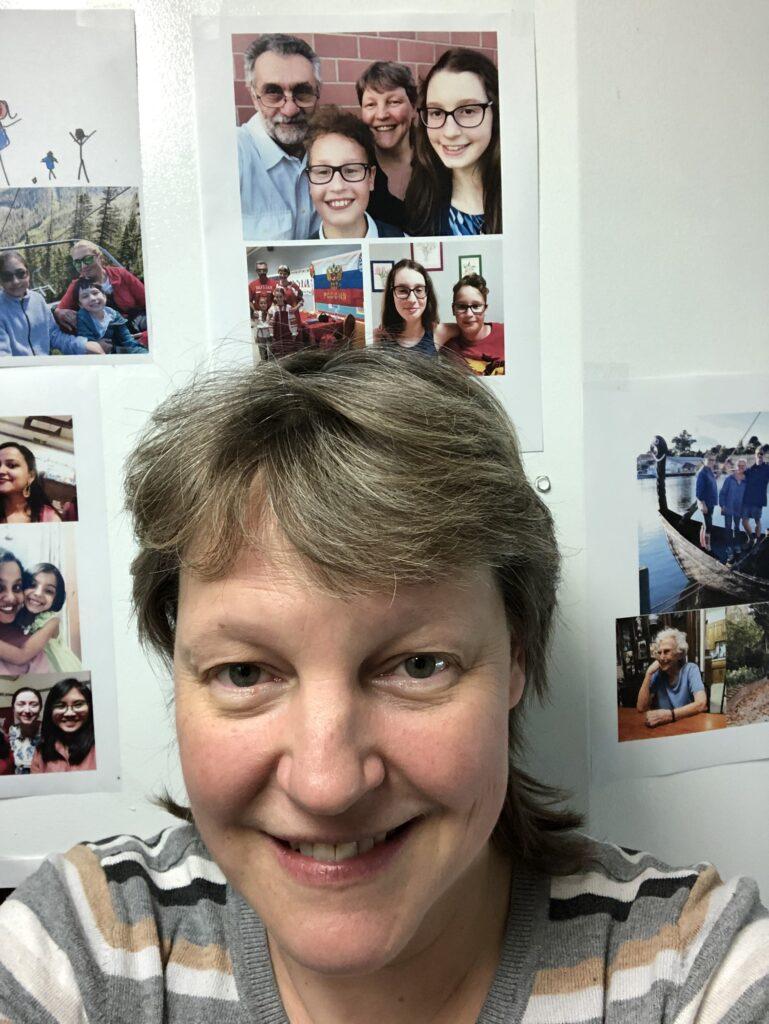 Lighthouse Beacons of Home
This blog is written by Expedition 396 scientist Irina Filina. Filina is a geophysicist and assistant professor at the University of Nebraska, where she leads UNL's Geophysics Research Group. In this blog post, Filina shares her thoughts on missing family while aboard the JR.
We are now in week 7 of the expedition. As time goes by, we all become homesick. To cope, there are a few ways I keep connected to home. One of them is a lighthouse.
My husband used to work for the University of Texas at Austin, where he participated in multiple scientific expeditions all around the globe. Once, when he was sailing in the Gulf of Mexico in 2010, my daughter Masha was almost 3 years old, while my son was not even 1. One day we were reading a book, and it had a picture of a lighthouse. Masha asked me what it was, and I explained to her that the lighthouses are built for sailors at sea to see where their home is, so they do not get lost. She responded, "Mommy, our Daddy is at sea now, what if he cannot find us!"
We built a lighthouse from the large blocks and made sure that it was visible through a window, so Daddy could see that we were waiting for him. Since then, the kids have built lighthouses for all Daddy's trips.
The day after we departed from Reykjavik, I got a photo of the one they built for me. It is much smaller now because many of the big colorful blocks have become part of my field equipment (they serve as great markers during geophysical surveys).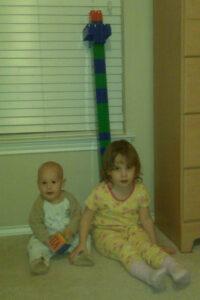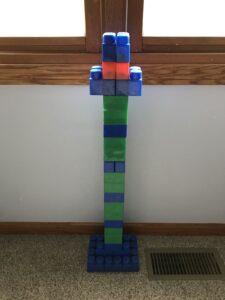 Photo on the left shows one of the earliest lighthouses from 2010. 2021 edition shown at right.
To help us coping with homesickness here at JR, we also have the Family Wall and the Pets Wall, filled with photos of our loved ones from home. When we just boarded the ship, the Pets Wall was started next to the entrance to the Core Lab. The photos of cats and dogs, even horses and turtles, began appearing there from the first day. Initially, I thought that that was rather strange. But if that helps someone to feel more at home, why not?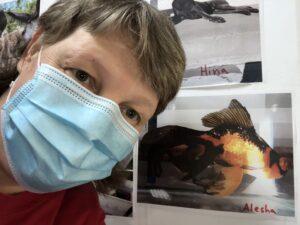 Once I mentioned the wall to my family during one of our Zoom meetings, and they demanded that I put a photo there, too. I was puzzled as we do not have any cats or dogs in the house. Then they all shouted at me–what about Alesha?
Alesha is our goldfish. During his first day in the summer daycare, my son saw the big black goldfish in the aquarium there, and he liked it very much. It was June of 2013, my son was 3.5 years old. He then wrote a letter to Santa Clause (of course with some help from parents) asking for "a black fish with big eyes". So, he got a gift card to the pet store for Christmas. That is how Alesha became our family member.
At that time, we lived in Texas. When we relocated to Lincoln, Nebraska in 2016, we took Alesha with us. We put his aquarium inside a cooler with the battery-operated air system, so he could make it through a two-day trip in the middle of the summer. Alesha is old now, he used to be all black, but as he ages, his skin peels off and his color changes. So, when my family demanded to put him up on the Pets Wall, I was hesitant. Common guys, seriously? They insisted, "Mom, we will send you a photo, and you must put it on!
Well, now among cats, dogs, and other pets on that wall, there is a goldfish, Alesha. I was actually very surprised with how much difference it makes–every time I exit the lab, I see Alesha, and it makes me smile and think of home. (Whoever came up with the idea of the Pets Wall, thank you!)
To stay connected with kids during the cruise, I wanted to have an activity that we can do across the ocean. I offered a chess game to my 11-year-old son. I do not play chess, but I know how the pieces move. My son is at the same stage, so that seemed like a fair deal. My son and I exchange the moves over e-mail, while Daddy acts as a messenger (he is the only one who knows how to play properly).
It is very embarrassing, but I am about to lose to my 11-year-old who is being coached by Daddy. It turns out that they discuss every move and its potential consequences before Daddy sends the message to me. This is exactly what I wanted –my son got into chess, and we all are well bonded during the cruise. Unfortunately, it comes with a prize of losing the game for me, but at the end of the day, this is all about family, right?
I have already mentioned the Family Wall on JR. It was initiated after Hump Day–the middle of the expedition on September 4. This day does not actually coincide with the middle of the cruise. Instead, it starts from the day we left our families. Indeed, my kids started their calendar the next day after my departure and they mark how many days are left until they will meet me at the airport.
My family insisted that they should be on the Family Wall. Of course, I could not say no to them. Now, every time I walk by that wall, I see them smiling at me and this keeps me going. I know that somewhere far away, in the middle of North America far from the sea, there is a special lighthouse that is built just for me. And I can see it here, across the Atlantic Ocean, through the bottom of my heart.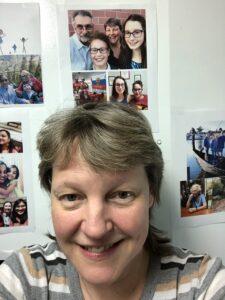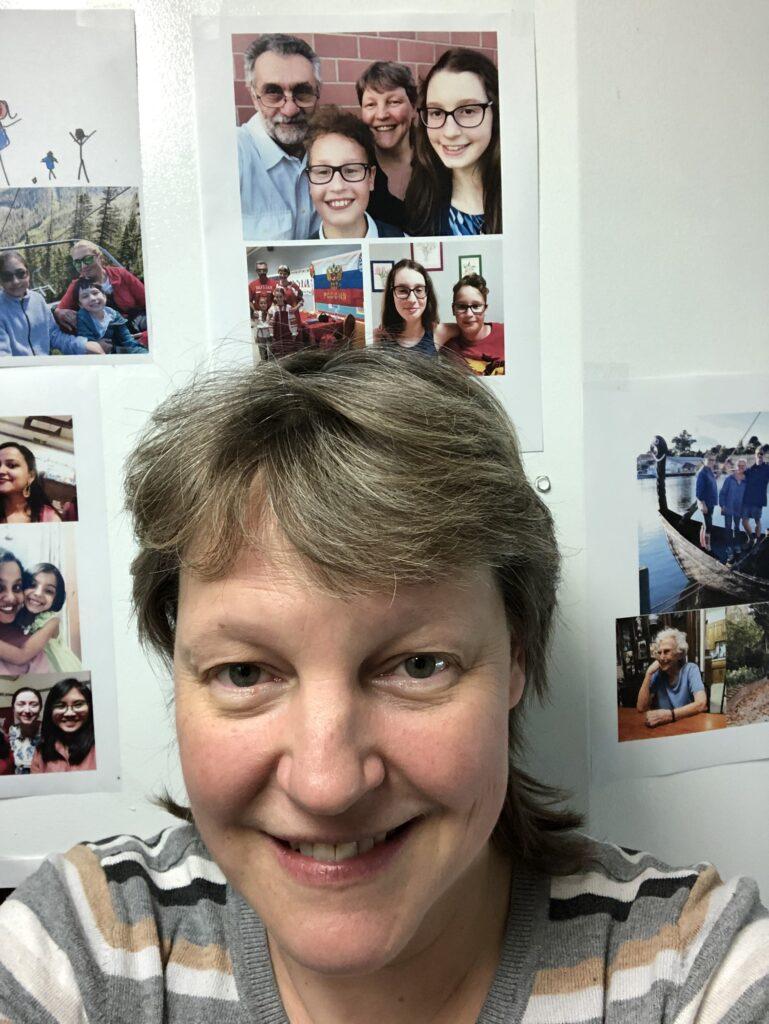 Photos submitted by Irina Filina.