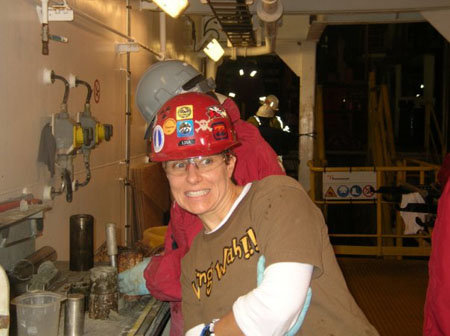 Lisa Crowder – Assistant Lab Officer
Good day to everyone! We had some minor problems yesterday with the drilling equipment but that has been repaired and things are back to normal. The ocean surface doesn't appear to be a rough as yesterday but the JR is still rocking quite a bit. Today I would like to tell you about one of our Assistant Lab Officers.
Lisa Crowder is one of the two Assistant Lab Officers aboard Expedition 329 of the JOIDES Resolution. She grew up near Portland, Oregon. While growing up, she liked hiking; going to the beach, going to the local science museum, and just being outdoors. This would explain her interest in the earth sciences. In high school, Lisa had a good biology teacher and she found that she did well in science and it was only natural for her to follow this interest when she went to college. She earned her bachelors degree Earth Science and Biology at Pacific Lutheran University. She then earned a Masters degree in geology from the University of California at Santa Barbara.
While earning her Masters degree, one of her professors told her she should consider studying geological oceanography and this led to her first ocean cruise ever. It was a three-month voyage that took her to Tahiti and Easter Island in the Pacific Ocean.
Here on the JR, her duties include making sure the cores move through the labs, making sure science supplies are delivered and removed from the ship on time, and logs the cores into the database when needed.
In her spare time, Lisa likes to play soccer, participate in triathlons, and play guitar.