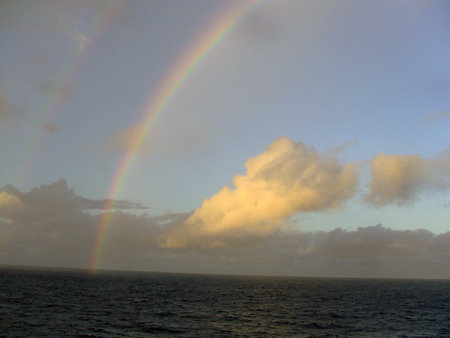 Good day everyone! Today it is a nice sunny day out here in the South Pacific. Late yesterday afternoon, we had a short period of drizzle (light rain) and suddenly a rainbow appeared. If you look carefully at the photo, you will see a double rainbow. Since we are out here in the ocean with nothing to block our view, the rainbow reached from one horizon to the other! It was beautiful! Unfortunately, we didn't find a pot of gold at the end of it.
Today, I'll tell you about another one of the scientists on board. Wiebke Ziebis (photo below) is a marine geochemist/benthic ecologist at the University of California. This means that she studies the chemistry of the sediments and the tiny organisms that live within the sediments of the seafloor. Wiebe has a PhD in Marine Geology from the University of Bremen in Germany.
She grew up and went to school in northern Germany and began teaching in the United States in 2003. Wiebke teaches a variety of classes at USC from basic biology to advanced sciences such as marine biogeochemistry and environmental microbiology. On Expedition 329, she has spent many hours in the cold room while studying the sediment cores. As you may remember, the temperature at the bottom of the ocean is barely above freezing, so we must keep the core at that temperature while measurements are taken.
In her spare time, Wiebke likes to surf, scuba dive, play with her Golden Retriever, learn new languages, travel, hike, ski, and do yard work. As you can see, she likes to keep busy!