Pekar's July 30th Blog: Leaving Australia and heading to explore Zealandia!!!
Note: I have been extremely busy with first learning and now being part of this expedition. Plus the internet on the ship is extremely slow. So while I have written a couple of blogs, it has been difficult finding time to post them.

On July 30th, we left Australia and started to head southeast toward the continent of Zealandia. The entire science party was out on the top decks all excited to leaving and beginning this once in a life-time adventure. We gazed out at the granitic hills behind Townsville for the last time as the ship maneuvered through the harbor and beyond. This continent that was my home for the last 7 days has also been home to life for billions of years of years. Today, it is like an island continent having ripped away from Antarctica (and Zealandia) and now sits relatively isolated from the other continents.
The ship past by a second home of mine for two days, Magnetic Island. I had such fond memories of this enchanting island. I hope to spend more time there someday. As we made our way out to sea, the color began to change to a deep blue that I so often remember from other oceanic expeditions. This color is pure magic for my soul as it light that has penetrated deep into the sea only to be reflected back. I can almost sense the wonders of the various layers of the ocean while gazing and absorbing the color of the sea.
Meanwhile, we our destination is the continent of Zealandia a mysterious continental crust that lies almost completely beneath the waves. New Zealand to our east is the only remaining part of this much larger piece of continental crust, now enshrined with the name Zealandia that has long subsided below the waves.
This is such an amazing adventure as IODP Expedition 371 will be the first deep sea coring expedition that will explore this newly named continent using drilling abilities that will let us explore the geologic history of this continent back to at least 60 million years ago.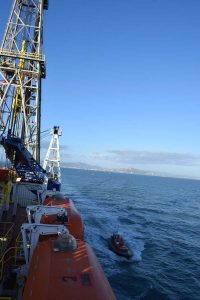 Leaving port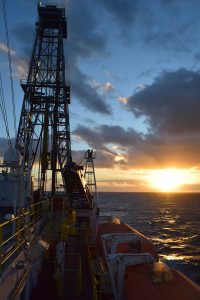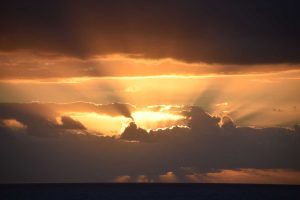 My first sunset and one of my last as i will be starting the midnight to noon shift soon.